As successful as in-app advertising is as the fastest-growing revenue stream in the mobile app landscape, unscrutinizable it is not. App users are being driven into a brick wall of ad burnout after being bombarded with up to 10,000 in-app ads per day. Although ad revenue is expected to grow, this shouldn't come at the cost of the users' experience. Instead of injecting a negative user experience into their apps, the most successful developers are carefully considering the quality of the users they want to attract.
This is where rewarded ads have entered the mobile advertising arena.
Bring Users Back into the Equation
Reports have revealed that the most important factor when it comes to mobile advertising is their relevance within the environment they are served. No user wants their in-app experience disrupted – and that's no surprise. Around 70 percent of UK users felt positively or neutrally about in-game ads – as long as they are relevant. And across the pond in the US, almost 75 percent of 18- to 34-year-old gamers said they would welcome the correct kind of mobile advertising.
According to Business of Apps, over the last five years, rewarded video ads have been the most popular among mobile gamers; survey ads and playables have likewise increased in popularity. Not only that – according to Google, 50 percent of users have reported that they would be less satisfied with their app experience if rewarded ads were removed. 
Rewarded Ads: Untangling the User Experience
While still set to propel growth and pump revenue into publishers' apps, rewarded ads have their limitations vis-à-vis user experience. Scrutinizing the success of rewarded ads is simply part of wanting to be the best in the midst of a rapidly evolving and competitive app economy of over three billion mobile apps in the Google Play store and two billion in the Apple App Store.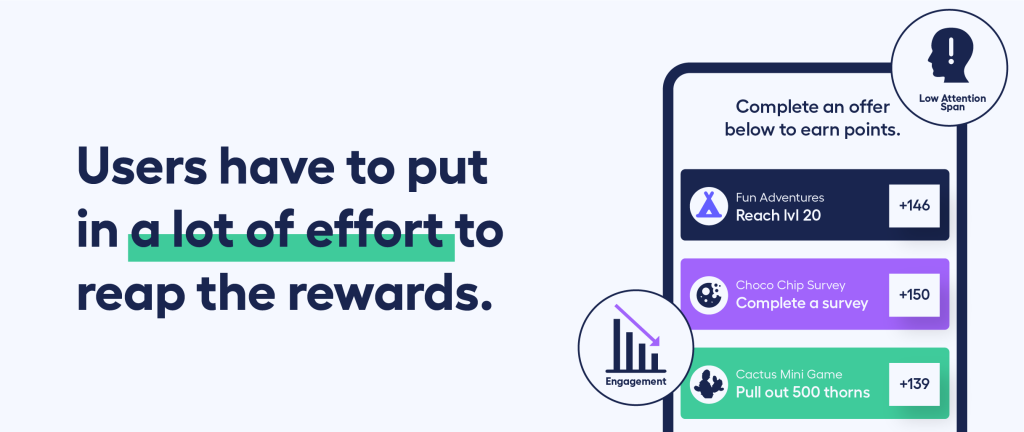 1. Users Have to Put in a Lot of Effort to Reap the Rewards.
Low attention span + high effort = low engagement.
When given several tasks to complete within an offerwall (for example, answer questions, reach a certain level in a game), some users may drop off – especially, with offerwalls, which tend to require a lot of time investment from users. This, in turn, might impact the potential revenue of the publisher.
Other formats, like rewarded video and Playtime, capitalize on the user's attention span, making it easy for them to receive rewards.
2. Rewards Are Not Personal Enough.
Not being offered rewards based on demographic, mobile interests, and location (for example) means many publishers miss the mark when it comes to connecting with high-quality, high-retention, highly monetizable users. The best advertisers and publishers create relevance and value with their rewarded ads.
 Luckily, some rewarded ad units, such as Playtime, have built personalization into the DNA of the rewards process. By profiling the user, the user then benefits from a curated list of gaming offers just for them.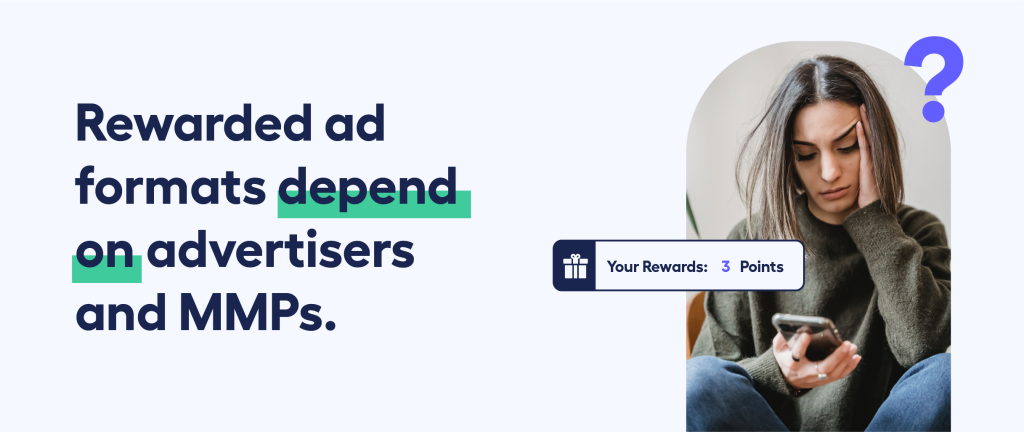 3. Rewarded Ad Formats Depend on Advertisers and MMPs.
There's a risk with this postback structure that it may result in issues and user complaints. This means that users don't receive their promised points or face delays. Should this happen, users might lose trust in the app, leading to a loss in engaged and active users.
But does it have to be this way? No. Alternative reward models have more recently emerged to help combat this UX interference. With Playtime, for example, adjoe tracks and communicates reward payouts, so that there is one less step between users and the rewards they deserve.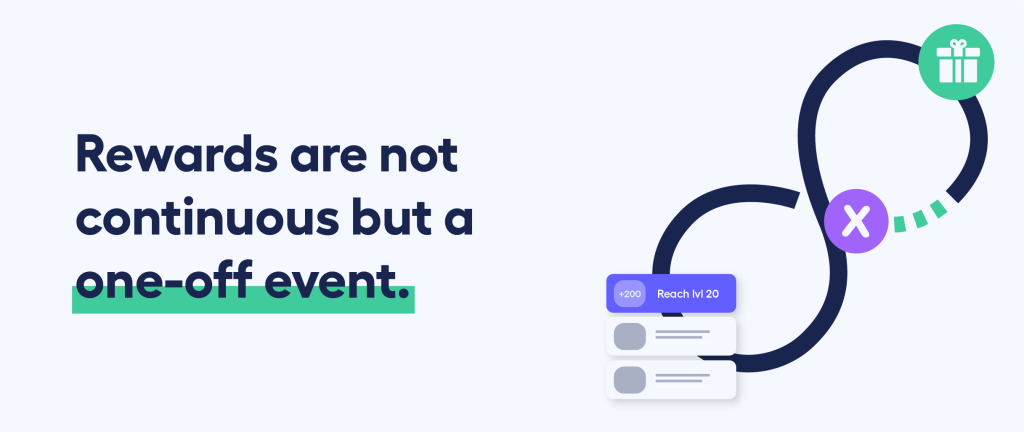 4. Rewards Are Not Continuous But a One-Off Event.
Offerwalls, videos, playables, and interstitials tend to give users a single reward in return for completing an action. Users engage with these ad units, complete actions, and then enjoy their earnings. But with these formats, there tends to be no further engagement. Advertisers don't get a second chance to connect with users again and convert them into hooked daily active users. Even if the user experiences instant gratification, it's got an expiry date.
That's why Playtime rewards users continuously for their time spent playing to keep them engaged, enjoying, and earning.
5. Some Rewarded Formats Are Still Intrusive.
There are some rewarded interstitials and playables that are forced onto the user like a normal interstitial and playable. Unlike other rewarded ad formats, these are not user-initiated. Disguised they may be, but they're still ultimately disruptive and have a negative impact on user experience. That's why keeping the user in control and letting them initiate the rewarded experience is key to user satisfaction.
… But it's not a case of out with the old formats, in with the new formats
Conventional rewarded ad formats, such as videos and playables, are still highly valued revenue channels. They are also just falling short of delivering the ultimate UX. To maximize their existing revenue, publishers really need to leverage the success of these formats and look further to other ad units that really put the user first.
A New Rewarded Ad Unit for a New User Experience
The rewarded ad unit Playtime rewards users in the in-app currency of a publisher's app for the time they spend playing advertised mobile games. To keep it short and sweet, Playtime's philosophy is: 
Reward users instantly, often, and continuously
Keep the ad experience personal
Cut out the middle men and reward directly
Let users engage when they want to engage
Playtime has won over users, publishers, and advertisers by delivering higher-quality users, a higher-quality in-app experience, and higher revenue. According to the 2021 AppsFlyer Growth Index, adjoe has become the fastest-growing advertising channel as more and more app publishers are integrating the Playtime ad unit into their app's monetization strategy. Credentials aside, adjoe is trying to direct the narrative away from whether or not ads (in this case, rewarded ads) are good or bad. It all comes down to whether certain ads facilitate good or bad UX in the app.