Background
Founded in 2000, Gameloft has grown to become a global games publisher with an impressive 17 development studios worldwide. It boasts a rich and unique portfolio of 190 games covering the most popular genres. Among its vast portfolio of games is the famed Asphalt racing series, with Asphalt 8: Airborne becoming one of the top titles in the portfolio. Today, Asphalt 8: Airborne sees 600,000 DAUs worldwide.
Challenge
In an effort to continue expanding Asphalt 8: Airborne's rewarded experiences, Gameloft looked to find an alternative to the more traditional rewarded formats. As user experience is key to its product, Gameloft sought to give players a fun way to earn in-app currency. In addition, finding a solution that facilitated growth with limited threats of revenue cannibalization and user churn was critical.
Solution
Gameloft found adjoe's Playtime to be a refreshing way to increase player engagement, as it enables users to earn Asphalt 8: Airborne's currency for the time they spend playing other games. Additional engagement is achieved as Playtime sends Asphalt 8: Airborne users notifications about their increased earnings while they play the advertiser's game. Through these frequent notifications, players are not only encouraged to return to Asphalt 8: Airborne; they become a series of continuous promotions as users engage with other apps.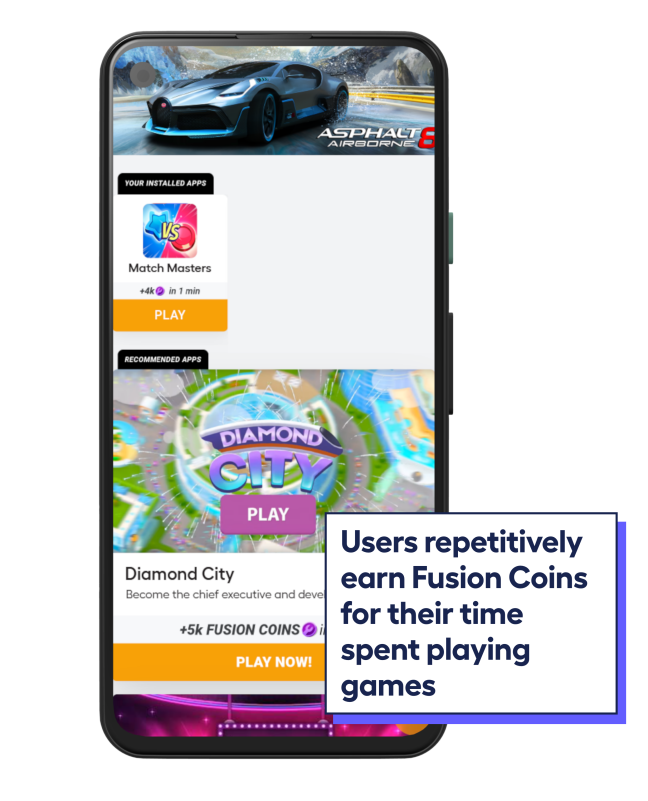 Impact
After adding Playtime, Gameloft was able to grow Asphalt 8: Airborne's ad revenue by 20 percent, while increasing its user activity within the app. Allowing players to rapidly earn in-app currency by playing a game they enjoy gives them a premium experience in the game.
Playtime's ability to create an improved user experience has resulted in it becoming one of the only formats visible to both paying and nonpaying users, demonstrating Gameloft's confidence in Playtime's ability to create additional value without the concern of user churn.
In addition to the engagement value created, Playtime packs a punch from a monetary perspective. According to Gameloft, Playtime currently achieves the highest ARPDEU of all the publisher's ad formats, achieving an ARPDEU 20 percent higher than rewarded video and nearly double that of interstitial ads. This has resulted in a holistic solution that boosts user experience and monetization.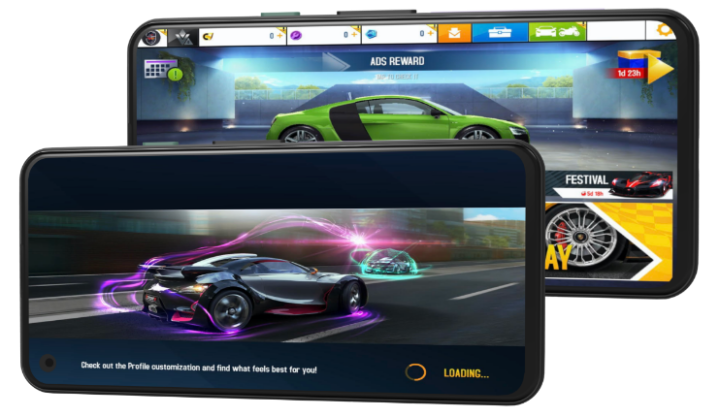 Looking Forward
Playtime has proven itself as a unique kind of rewarded experience that benefits the users as well as the publishers. Due to Playtime's success in Asphalt 8: Airborne, adjoe and Gameloft are looking to expand their monetization partnerships into additional Gameloft apps in the coming months. As for Gameloft, it will continue to develop more and more mobile games and is even working to increase its presence on new platforms in an initiative to reach new audiences.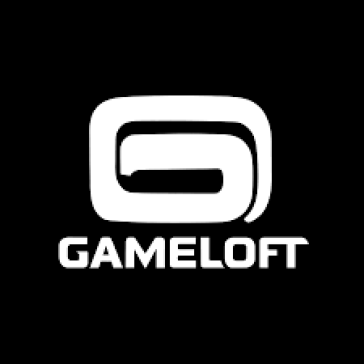 "Playtime has been a no-stress source of revenue and user engagement. As part of our monetization strategy, it is an incremental revenue source, the format is fun for users, and we have no worries about user churn. Making it the ideal solution for mobile games."
George Iosif, Gameloft