Are we heading into some headwinds in the app monetization landscape?
It's up for debate. The not-so-good news is that consumer spend in apps has cooled by two percent YoY. App publishers must harness new revenue streams and strategies to maximize this revenue in a climate of inflation and users with less disposable income. To what extent will we witness a great reshuffle of paying app users to nonpaying app users? And just how drastically will publishers have to rethink their app monetization strategies?
The good news is that we as global mobile consumers are still installing apps. To be precise, 11 percent more than in 2021. We're also spending more time per day in our mobile apps than in previous years. So, you might want to hold off on any bleak monetization predictions you have for 2023.
To help you sift through all the noise, these are the app monetization trends that are right on the money this year.
1. It Pays to Pay Attention to Attention
Did you know that people now spend nearly 47 percent of their day thinking about something other than what they're actually doing? Is this to say, then, that high user engagement with mobile apps is subsequently suffering? It's difficult to say. But we can assume that if users are more easily distracted, it'll be more difficult to highly engage – and sustainably engage them – in a given app.
One statistic does point toward flatlining app engagement since the pandemic. According to data.ai's latest State of Mobile report, there has been a minimal three-percent growth in daily time spent per user since 2021. Any publishers must therefore be asking themselves: "If users are still spending as much time in apps without lockdowns, how can I entice them into staying engaged for longer in my app?" The attention metric is gaining greater traction in the app economy. Namely, because the correlation between attention, time spent, and average revenue per user (ARPU) is a crucial one.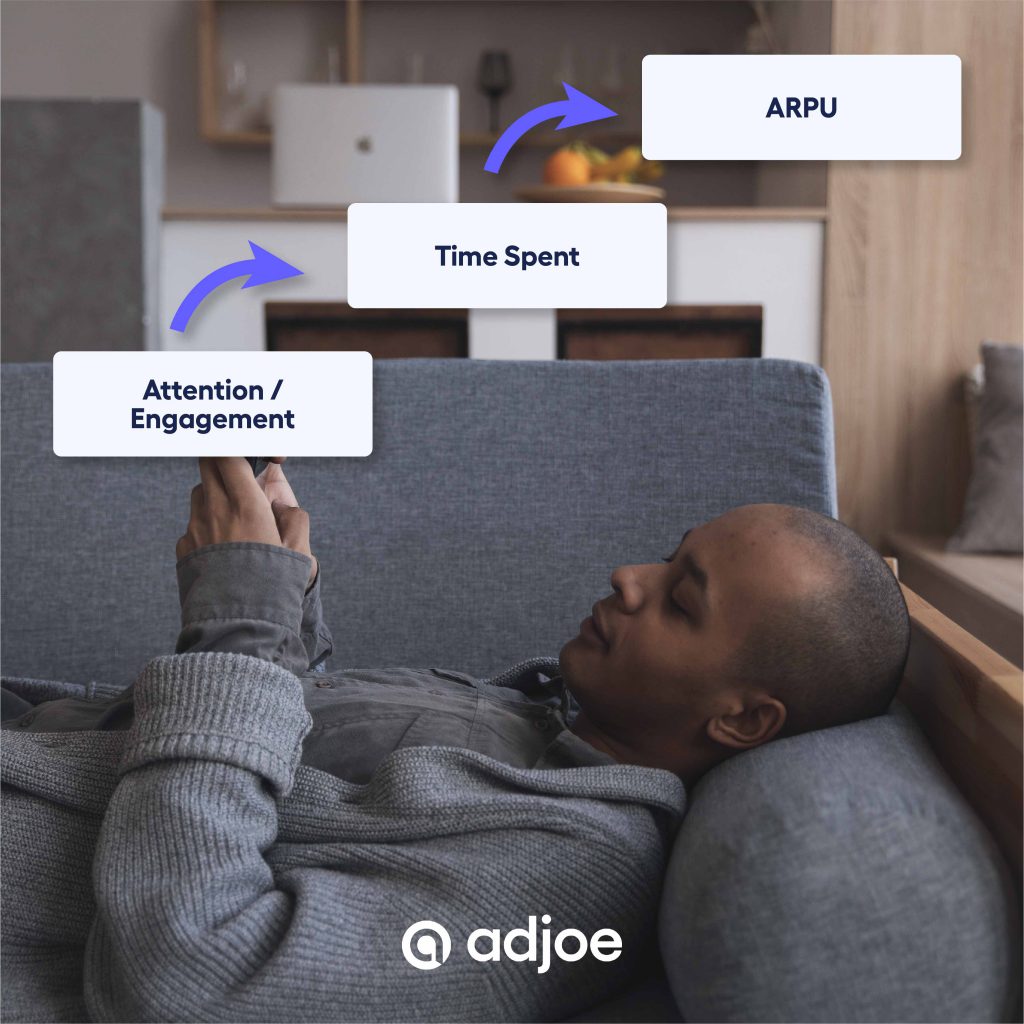 Longer app session durations lead to greater publisher revenue for several reasons:
Higher ad consumption leads to higher ad-based revenue.
Engaged ad consumption – for example, with rewarded ads – keeps users in an app for longer and generates both higher ad-based revenue and a quality in-app experience.
Session-increasing engagement mechanisms that enable users to establish meaningful connections and experiences in an app often lead to higher user retention and consumer spending. Think about dating and social apps.
There are proven ways to monetize an app out there driving these much-needed longer sessions and a better user experience. Without going into too much detail, these are just some of the app monetization trends publishers should leverage for stronger engagement in 2023.
Gamification
Mobile gaming downloads reached almost 90 billion last year, a figure still climbing YoY following the period of pandemic growth. And with dedicated mobile gamers collectively investing billions of hours in 2022 in gameplay, it's not difficult to see how gamifying an app in 2023 would trigger longer sessions and higher revenues for publishers.
Last year, TikTok – whose revenue grew by 100 percent between 2021 and 2022 – launched gaming in its app with well-known gaming giants such as Vodoo, Nitro Games, Aim Lab, and Lotum. Now creators can link to minigames that will drive longer TikTok app sessions. The app has recently even launched initiatives to reward app users with a cash prize for their engagement in a series of live trivia games. It remains to be seen just how effectively this gamified strategy will maximize the publisher's revenue.
Loyalty Rewards
In late 2022 Starbucks reported that its loyalty program grew by 16 percent in the last quarter. It now has almost 30 million active users in the US alone. And to win over greater engagement from these users, the company is supposedly building a beta version of a Web3 rewards program, which will introduce NFTs into its loyalty offerings.
While many publishers are far from integrating this level of loyalty program into their apps, they should look to integrate visible and attractive experiential rewards seamlessly into their in-app experience. This will boost as much engagement and spur hype around the app as possible. Especially, in times of global inflationary pressure, research has revealed that 80 percent of consumers are ready to share both their personal and purchase data in exchange for ways to save money through personalized deals and offers.
Metaverse
While we question AR and VR becoming the norm in 2023, successful publishers will want to create more immersive user-first experiences to keep users in their apps for longer. Take Snapchat, for example, who has announced its goal to capitalize on AR to engage its users and gain partnerships with companies such as Amazon and Disney. Despite ad revenue slowing, Snapchat has remained resilient by upgrading its monetization strategies and engaging 250 million users with AR every day.
The metaverse may well also turn out to be a nontrend again this year, but we'd be ignorant if we shrugged it off altogether. It's still certainly a trend to watch, with conservative predictions stating that the metaverse could be worth just short of 500 billion US dollars by the end of the decade.
2. Mediation Moves Away from Black Box Culture
Trust is an important word for 2023. It's an important word for recessionary periods, when businesses and consumers are less inclined to take risks and more inclined to stick to what they know. Publishers themselves increasingly rely on in-app ads to monetize their apps. But how does trust come into app monetization trends?
Against the backdrop of multiple antitrust movements targeting the Google monopoly, we could witness app publishers gradually breaking away from the big mediation players – the black box solution providers – in 2023. To maximize their revenue, publishers must seek mediation providers promising maximum transparency. As we already mentioned last year, this requires moving away from the traditional mediation providers in the market toward those offering unbiased ad mediation. Also known as in-app bidding.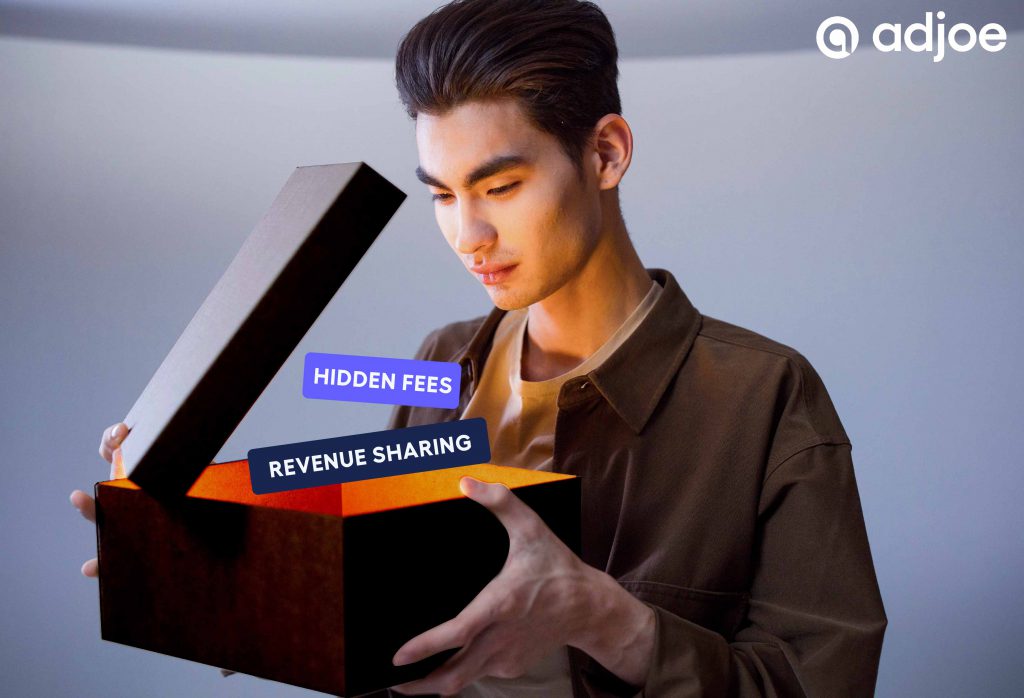 We predict that more and more publishers this year will become more "woke" to just how much their revenue is being cut by the big adtech powerhouses – and just how high the cost of "free" mediation solutions provided by these powerhouses actually is. Up until now, these ad network owners have been taking 50 percent of their cut from publishers through revenue-sharing models.
What could this demand for decentralization via ad mediation mean for app monetization?
Publishers ask for more control and transparency over their revenue and become more savvy vis-a-vis revenue sharing models
Higher competition among advertisers and the bids they place on a publisher's ad inventory
Greater potential for higher publisher revenue thanks to a programmatic model with no hidden costs
As alternative monetization solutions emerge, 2023 could bring with it attempts to restore advertiser competition and uncorrupt the industry toward the promised land of programmatic transparency. In 2023, the more widespread integration of transparent mediation platforms could mean out with the oligopoly and in with higher revenue shares for publishers.
3. In-App Advertising Ups the Ante
Perhaps the real elephant in the room is the subscription apps and platforms that saw their subscriber numbers slide slightly in 2022. Headlines dominating industry news from last year revealed that some IAP-heavy platforms really said "Hi" to revenue stream diversity by pivoting toward in-app advertising.
At the beginning of last year we talked about subscription app publishers leveraging IAA for users unwilling to pay for services – be it streaming or dating. The conversation has since shifted toward seeing IAA not as an opportunity but as an imperative. In 2023 – as inflation continues to put pressure on the population's pockets – subscription publishers must offer ad-supported tiers robust and sustainable enough to compensate for the share of users downgrading subscription tiers.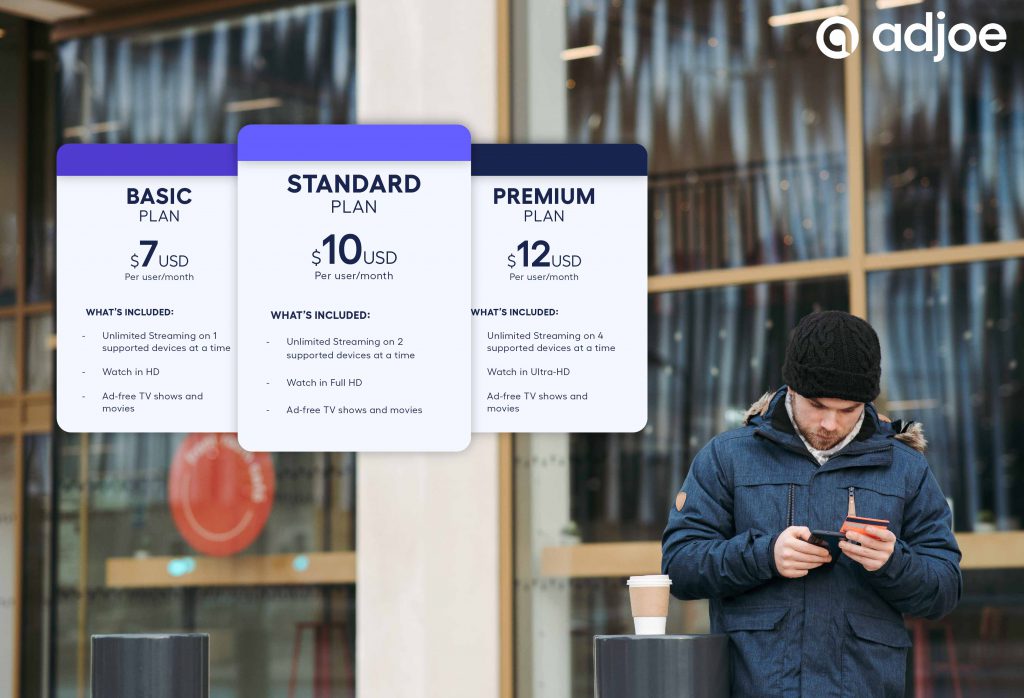 We're sure the Netflix and Disney+ stories from 2022 need little introduction – they took their app monetization strategies down the IAA route and have reaped the benefits: Netflix' global ad revenue is now estimated to reach almost four billion US dollars by 2030.
Which brings us to the power of in-app advertising in 2023. If you're a publisher looking to maximize your revenue, the key is to master ad stack diversity. Keep a high-quality ad stack running successfully and bring in revenue while exploring the new, shiny ad formats for incremental revenue. Successful publishers will boost ad-based revenue and combat common problems such as user churn, low conversion, and disruptive UX by integrating user-first ad formats that boost intent and favorability. Where users don't have to be passive.
Rewarded ads
Immersive formats such as full-screen ads
Gamified ads – playable ads
Intrinsic/native ads
Audio ads
IP ads
The key is for publishers to focus on high-quality and highly engaging ad experiences to stay ahead of the game this year. There's no controlling whether Google will roll out more regulations threatening to penalize publishers serving disruptive ads – following their restrictions on certain interstitials. What publishers can control from the get-go is to follow suit and avoid "ad experiences that fall beneath a threshold of consumer acceptability and are most likely to drive consumers to install ad blockers."
Consumer Spend Not Quite on Trend
If you've been reading the economic tea leaves, you might be feeling apprehensive about this year in the app economy. Because no app is immune from slowing revenue growth in 2023. In recessionary periods, it's all about building resilient and robust – and diverse – revenue streams. This year calls for a mix of
mastering the ordinary: boosting engagement and ad consumption and
exploring the impressive: leveraging new ad formats and programmatic solutions.
Amid inflation and talks of a recession, app users are still willing to spend their disposable income. As Sensor Tower states "some new consumer habits have proven to be tenacious;" consumers are more selective with their spending. Publishers need to therefore drive home the real value of their app by promising a quality user experience, which they can go on to monetize effectively through the various app monetization trends discussed.