The mobile ecosystem moves fast: A year ago, mobile app trends were still heavily centered around the COVID-19 pandemic. We were discussing unprecedented surges in downloads for business, health and fitness, gaming, and education app verticals. These were taking the digital world by storm in 2020.
But now the dust is starting to settle. We can see that global app download numbers are starting to plateau. What's more, the share of free mobile apps in the respective app stores is now at well over 90 percent. This means app developers will really need to up their monetization game in the years ahead to remain fiercely competitive and sustainably profitable. And to boost their app's LTV.
Are you hitting the conversion ceiling with your mobile app? It's a sign you need to fine-tune your app monetization strategy and make it more lucrative and robust. It's easy to feel left out. And it's even easier to get left behind. But once you capitalize on the following app monetization trends, FOMO will be far from your mind.
Key Takeaways
Global mobile app downloads stagnate; revenue continues to rise
Mobile app spending is expected to reach 270 billion US dollars by 2025
In-game advertising is set to increase by 11 percent by 2028
5 Ways to Monetize an App
You'd better believe that, by 2025, mobile users are expected to spend around 270 billion US dollars on mobile apps in both Google Play and the App Store. To put that into perspective, that represents a 143-percent increase compared with the 2020 app store spend. And to put that into perspective, the global current app store spend equates to a spend of 320,000 US dollars per minute.
But, in a saturated mobile app market, don't be misled into thinking this increase in consumer spend on your app will come easy. With a few quick fixes. We're giving you the latest intel on your future app monetization strategy here.
1. Consumers Will Crave More Connection
If you want a slice of that revenue pie in 2022 and beyond, you should tap into time spent on your app. It's a game-changing monetization metric. Why, you ask?
There's a high correlation between time spent and money spent in mobile apps. In the mobile ecosystem, we would usually say this is down to ad consumption. However, new immersive in-app experiences, such as the metaverse or livestreams, offer users authentic human connection with the option to purchase merchandise or virtual gifts as part of the in-app experience. Especially in the livestreaming economy, users are encouraged to engage with meaningful user-generated content, where they will be driven to spend more time and money.
If we look at 2021's highest-grossing apps for consumer spend worldwide, 70 percent of them are video-first user experiences. Namely, OTT or livestreaming apps, like Twitch. Time spent on livestreaming services grew ninefold in the past four years to 280 billion hours in 2021. And we can expect this trend to continue. As livestreaming is forecast to power the creator economy through 2025, social app publishers especially will look to effectively monetize connection, community, and content creation in their apps. We can count on the result being longer and more frequent session times and greater user engagement.
2. Subscription Models Set to Stand Strong
According to TechCrunch, Netflix, YouTube, Tinder, and Disney+ all topped the charts for highest-grossing apps of 2021. User spending in the top subscription apps is already a multibillion-dollar business in various GEOs – especially, in the United States. There, user spending has shot up by 30 percent – thanks to both in-app subscriptions and mobile gaming.
What about our subscription predictions for the coming years? As the share of revenue from recurring IAPs compared with one-time IAPs slowly creeps up year on year, successful publishers will look to introducing subscriptions as one of their revenue streams. Currently, only around one in four free trial users convert into paying customers. So, opportunistic publishers will investigate and test more effective ways of converting their nonpaying users to paying subscribers, moving them along the user funnel.
What about the users who don't buy into the subscription? Publishers will switch up their tactics by showing nonpaying users ads when they use their apps. By tapping into hybrid app monetization models incorporating both subscriptions and in-app advertising – especially rewarded advertising – publishers will look to fill in necessary gaps in their revenue streams. We'll watch this app monetization mechanism pick up momentum very soon. Especially, with mobile ad spend projected to hit 350 billion US dollars in 2022.
3. Mobile Games Still on Another Level
Even with the world dipping in and out of numerous lockdowns and increased screen time, there have been no real signs of app fatigue toward mobile gaming. The mobile app vertical grew again in 2021, and currently accounts for around 67 percent of all in-app spend. Straight out of the gate, data.ai has just identified MMORPG, slot games, and the match-3-meta gaming subgenres as the most lucrative and monetizable verticals worldwide based on consumer spend.
But in-game advertising will also make the mobile games vertical a force to reckon with. In-game advertising is set to grow in value by a CAGR of 11 percent between now and 2028. Effective in-game advertising will prioritize relevance to engage users. And the data certainly supports this strategy. A report recently found that 66 percent of UK gamers would welcome ads in their gaming apps, as long as they remain relevant and aren't disruptive.
So, what will this mean for app advertisers? They'll really need to knuckle down on adopting superior targeting strategies, so that their ads are only shown to the right gamers. The high-quality gamers, highly engaged gamers, and, ideally, also the highly monetizable gamers. Once they've sussed out their targeting strategy, they will really be able to use certain ad formats to get the most of these engaged gamers.
Raking in Revenue with Rewarded Formats
A Facebook report found that rewarded ad formats are more successful than others in prompting gamers to complete an action, increase their session time, and ultimately boost app revenue:
Rewarded videos
Rewarded ads
Playable ads
Offerwalls
Internationally renowned games giant Gameloft grew its ad revenue by 20 percent for its title Asphalt 8: Airborne. How? The publisher integrated the time-based rewards into its game to boost user activity, session time, and engagement in the game. With the unique ad unit integrated into its gameplay, another revenue stream was born. The rewarded advertising platform even achieved a higher ARPDAU than rewarded video. Rewarding users and giving them a premium in-app experience is definitely going to pack a punch in the future of app monetization.
4. 5G: Coming to a Screen Near You
The new frontier is here. As mobile screens get bigger and connectivity gets better, user experience will likewise get bigger and better. Even more so with the rise of 5G technology, which will seriously disrupt the in-game advertising landscape. We're not talking about the distant future but the imminent future. We're talking about three billion 5G consumers across the globe who will soon be able to enjoy AR, enriched creatives with higher-quality video ads and playables.
To also work around the issues with user-level targeting, advertisers will absolutely need to reengage their users by leveraging 5G and creating immersive ad experiences with near-instant delivery. As Forbes suggests, app advertisers should focus on driving forward new 5G-enabled ad formats that are highly engaging and will boost click-through rates and conversion rates. Multiple monetization mechanisms such as – but not limited to – video and streaming content and in-game advertising will be significantly enhanced by 5G technology.
Some app publishers will be able to witness an uplift in-app ads revenue and user experience after integrating real, high-definition, immersive ad formats. Gaming publishers, for instance, especially will look to 5G as an opportunity to render their gameplay experience even more hyperengaging and compelling. Perhaps with ultraimmersive ads that are as realistic and nondisruptive to the in-app experience as possible. Imagine running high-resolution rewarded video ads or AR video ads. Livestreaming could promote even higher user engagement by implementing interactive elements.
It's an exciting development, and we love to see it.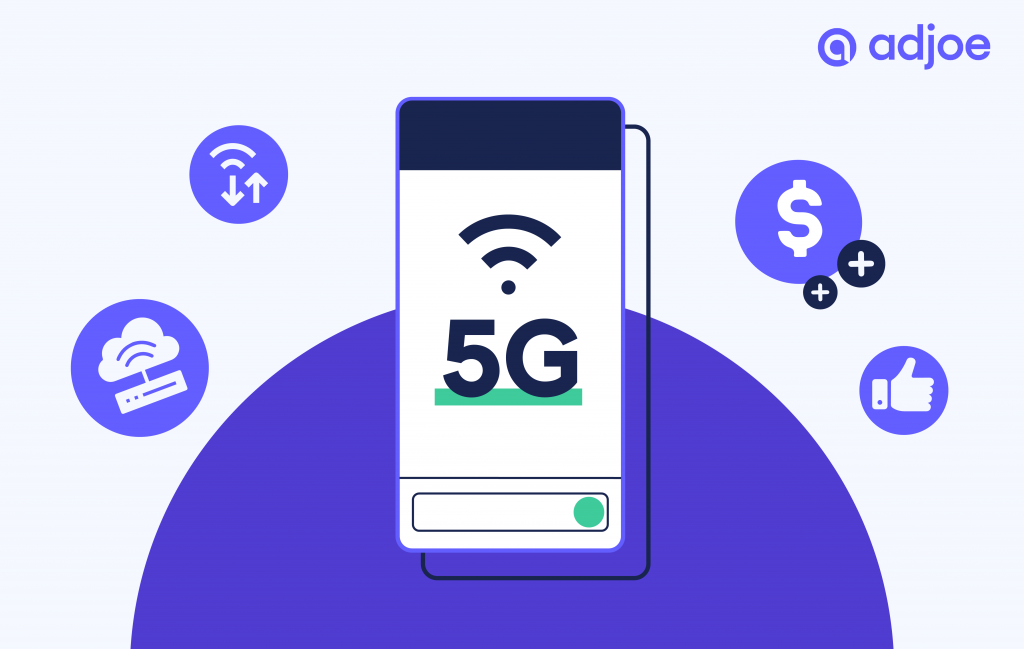 5. Mobile Ushers in an Era of In-App Bidding
Last but not least, let's dive into app monetization trend five.
As Meta forewarns: "Bidding has moved from priority to imperative," signaling a move away from the complex waterfall model for better efficiency. A Facebook Audience Network report even iterated that shifting from waterfall to bidding should be a prioritized app monetization trend among mobile game businesses. What does bidding mean for app publishers? More advertisers can compete fairly in real-time for impressions, and publishers can rack up some additional revenue. The fiercer the competition among advertisers for your app, the higher the monetization potential for you as a publisher.
What does in-app bidding mean for the future monetization landscape? With publishers already reporting that bidding helped increase their overall app revenue by up to 60 percent more than with the waterfall structure, it's hard to envisage a future that doesn't embrace in-app bidding. According to a Facebook report, ARPDAUs usually rise by up to 30 percent after publishers incorporate in-app bidding.
App Monetization Trends: In a Nutshell
When it comes to app monetization, more is actually more. Especially in a saturated app market.
Trends in the mobile ecosystem show us that for all app verticals, more monetization channels mean more opportunities to monetize different users. It means more revenue streams. If publishers want to make the most of every user they're acquiring, they need to capitalize on these app monetization trends:
embrace new ad technologies and build rewarded ads into their user's experience
find out how to boost app subscriptions or where nonpaying users fit into a monetization model
look into how monetization models, such as header bidding, could fuel a revenue uplift
A hybrid app monetization model – especially one that incorporates these very app monetization trends – will function as both a monetization engine and a safety net. Because you'll be able to monetize and engage the whole spectrum of your users. Not just your better-quality users.