It is a truth universally acknowledged that digital businesses must be in want of a robust monetization strategy. To be able to pivot toward other sources of revenue in uncertain times.
Hit with heavy inflation and a steep rise in living costs, consumers around the world are facing fierce financial anxieties. Adults across the globe – from the United States, United Kingdom, Germany, Russia, Spain, and Brazil – have confessed future worries about their bank accounts. So, if it's crunch time for consumers, where will they cut down on their nonessential spending?
Subscription Economy: Is It Just Price Sensitivity?
We all know someone with access to Netflix, Spotify, Amazon Prime, and Disney+. Maybe even Hulu, if their binge-watching knows no bounds.
For years, a large percentage of adults worldwide have been enjoying subscriptions to multiple overlapping platforms. Besides Streaming Video on Demand (SVOD) services, subscription apps have been lucrative over lockdowns, observing revenue growth of around 34 percent in 2020 and 41 percent in 2021.
But the big players must now face the music of a recession – and what about the payers? In the United States, 32 percent of consumers stated in July 2022 that they will spend less on streaming services. Across Europe, mid-2021 results revealed that churn ranged from 7 to 23 percent for streaming services – this was before an economic downturn was on the cards. So, with consumers nowadays evidently prepared to make cuts to their outgoings, the subscription economy will have to brace itself for the Great Reshuffle:
consumers churning or downgrading their subscription tier
subscription service providers looking for other ways to monetize their customers
Is It Just a Maturing and Saturated Market?
Deloitte predicted at the end of 2021 that the average number of video-streaming subscriptions per person will rise, and a Great Reshuffle will mostly be down to consumers churning and resubscribing or subscribing with a competitor. This is due to high competition in a maturing market. The company predicted that, in 2022, churn rates for SVOD services would reach up to 30 percent per market.
But looking at industry forecasts, you'll see that the subscription economy is still set for solid and steady growth for years to come. By 2026 the subscription economy will have grown at a CAGR of around 20 percent to be worth almost 600 billion US dollars. We can't help but ask ourselves what this data means:
Made prior to rising inflation rates, are these forecasts now optimistic?
Will a recession not impact consumers as much as we predict?
Do – or will – subscription service providers possess the solutions they need to feed this financial growth?
What About Gaming?
Speaking of competitive markets, experts have particularly voiced their doubts as to how successful subscription models will be within gaming. In general, the economics of subscription models for gaming is still unclear for the following reasons.
Games tend to engage users with progression mechanisms to ensure they are open-ended and infinitely playable. This is one reason why gaming's unique consumption model isn't "all-you-can-eat" as with other platforms (video and music platforms in particular).
Game publishers are keen to reduce initial user acquisition barriers and embrace F2P gaming. A segment that will be worth 84 billion US dollars in 2023 and far larger than the premium (paid) games market. Publishers would thus rather commit their budget to long-term monetization strategies with ads and in-game purchases.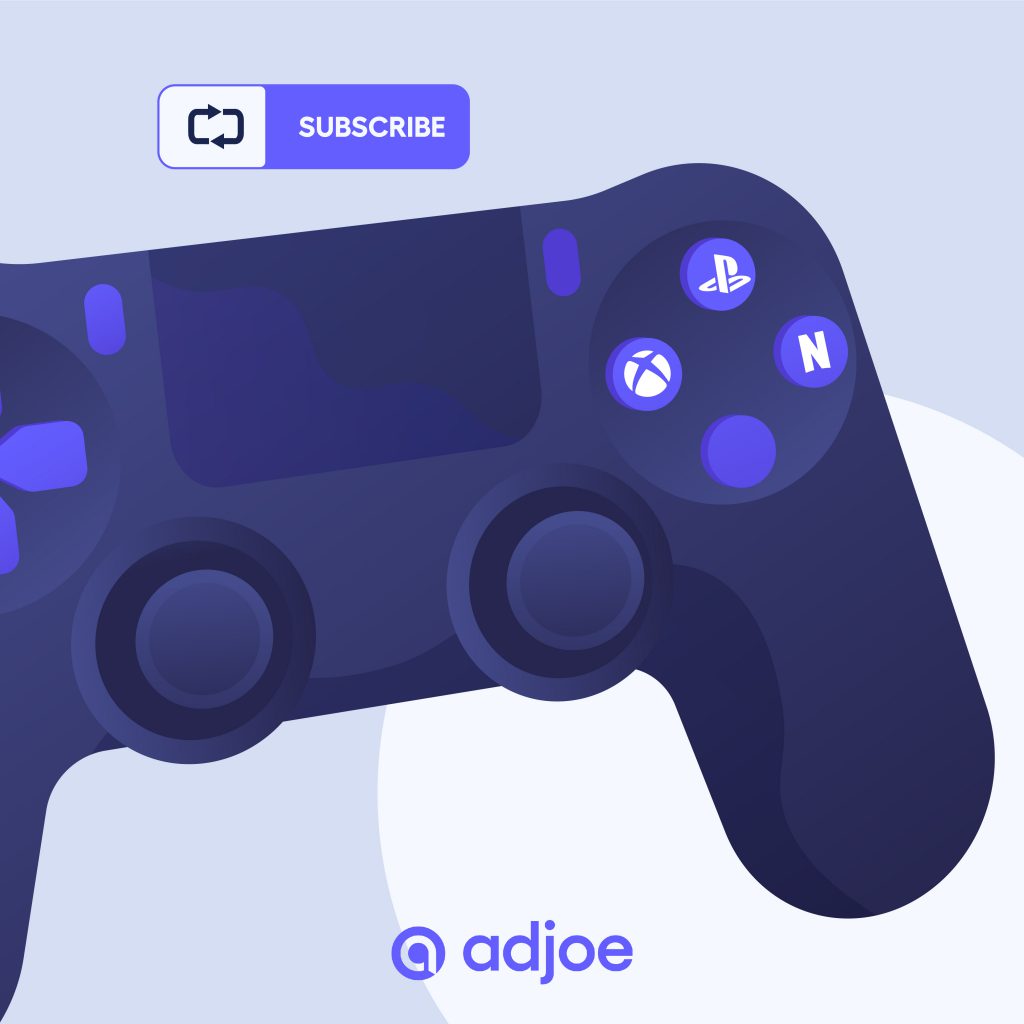 Looking at gaming subscription platforms such as PlayStation Plus and Xbox Game Pass, the former's user base has remained stagnant (even dropping in 2022), while the latter has increased its subscriber count by just under 40 percent to 25 million at the beginning of 2022. And never neglect Netflix: Despite experts believing that games development for Netflix' mobile gaming segment will be "prohibitively expensive," the tech giant's ambitions remain impressive. After all, the stakes to make up for its lost revenue are high, with the global gaming segment valued at around 305 billion US dollars in 2027.
If the subscription economy overall will grow as forecasted and overcome these uncertainties, by which means – or rather – by which streams will it do so?
Recession Means Reassessing Revenue Streams
In the same way humans need a wide variety of nutrients to stay healthy, subscription platforms need a wide variety of revenue streams to stay healthy.
How do you cash in on nonpaying users or on low-tier subscribers – those who have churned or are most anxious about rising costs? By offering more pricing tiers, with ad-supported and ad-subsidized models, service providers can monetize each segment of their user base far more effectively and reduce high subscriber acquisition costs. They could even look into rewarded programs as a gateway to greater revenue growth. If premium and exclusive content is truly good enough, a rewarded model would drive high user retention rates.
Considering Case Studies
Netflix and Disney+: The cat has been out of the bag for a long time. Disney+ and Netflix announced their plans to introduce ad-supported subscription tiers to their services to counteract falling revenue and subscriber numbers earlier this year. Forecasts are now estimating ad-based revenues surpassing 1.2 billion US dollars by 2025.
Spotify: The music-streaming service is still enjoying steady growth in its premium subscribers, with more than double the amount of subscribers now compared with early 2017. But despite this – and despite dominating the market share of music subscription apps – Spotify failed to rank as one of the top-ten highest-grossing music apps worldwide earlier this year for Android and Apple. YouTube Music, Amazon Music, and Pandora all beat Spotify in terms of revenue. In recent years, Spotify's ad-based revenue has only made up less than 15 percent of overall revenue worldwide. This leaves us thinking there might be more room to maneuver when it comes to integrating more user-friendly and engaging ads into its service.
Snapchat: But it's not necessarily just about pivoting toward ads. Following its Q1 financial forecast, Snapchat has been under pressure to explore new revenue streams and is now rolling out a Snapchat+ subscription model. This subscription model will ensure its users can unlock premium content to sustain greater engagement and retention than apps with revenue predominantly based on ads and IAPs. Snapchat+ has already captured the attention (and bank accounts) of one million users across the globe.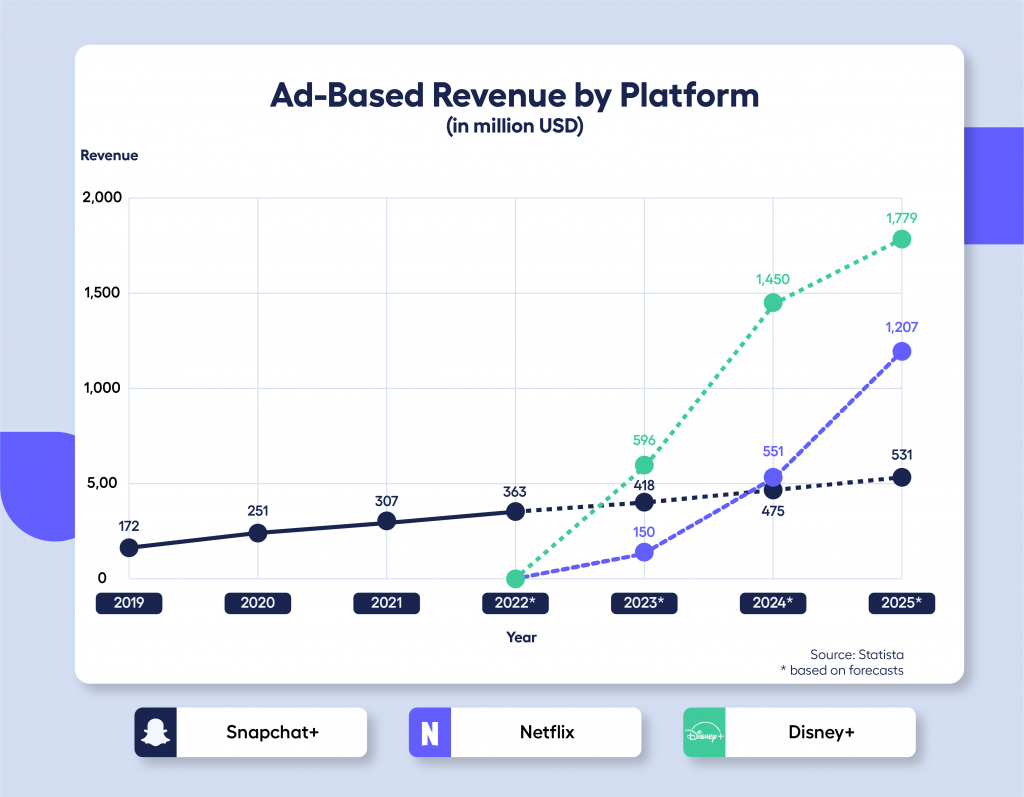 No Need to Panic
"Unfavorable economic conditions may lead consumers to delay or reduce purchases of our products and consumer demand for our products may not grow as we expect, and we cannot be sure the extent to which we may be affected by recessionary conditions."

Bumble Inc.
How do you reassure stakeholders in uncertain times like these? By insulating your product as well as you can from the storm of uncertainty and churning consumers. Only by diversifying their monetization stack will subscription platforms remain resilient. Whether it's through ad monetization, rewarded models, or gaming content – key metrics in the subscription economy should be less about "how many subscribers?" and more about "how much revenue was generated from each monetization channel?"
Ads are almost certainly coming to a screen near you – what do you make of it?