While the COVID-19 pandemic forced global populations to stay locked up in their homes, dating app publishers managed to unlock new, engaged users. It turns out you can put a price on love. Consumer spend exceeded four billion US dollars in 2021 on all dating apps – such as Tinder, Bumble, MeetMe, and Badoo – and has increased by 95 percent since 2018. Several GEOs witnessed this colossal growth – from Germany and Japan to Indonesia and the United States.
It's a Match: adjoe & App Annie
Going into Valentine's Day, our team at adjoe decided to investigate global dating app usage. Through our SDK network, adjoe is able to access first-party app usage data from our user's Android phones to personalize their app and advertising experience. By enriching our insights with App Annie's data on consumer spend for the five largest GEOs, we looked at where to best find love across different latitudes: the United States, Germany, France, the United Kingdom, and Brazil. For more insights into the dating app landscape, check out the App Annie State of Mobile 2022 report.
But rather than only considering consumer spend data, we wanted to investigate the romantics behind the revenue. That is, the users active on these dating apps. Focusing on these five GEOs, adjoe created its very own index on the top-ranked dating apps by daily time spent and compared the differences in user behavior.
Our Romance Rankings: Most Used Dating Apps by Country
With the sheer amount of global dating apps available for download, singles are absolutely spoiled for choice when it comes to finding their supposed soulmate. But which dating apps do singles tend to swipe on the most?
Without further ado, here are adjoe's top-ranked dating apps by daily time spent. *Drumroll*
Takeaway 1: Tinder Secures Most Top-Five Placements
First things first, you'll notice that Tinder features in the top-five placements in all five GEOs. Marketing itself as the "biggest and flyest party in the world for singles," UX designers applaud the app for appealing to users with its branding and being able to mimic dating in real life with its famous Swipe Right and Swipe Left functions. But without the humiliation of facing rejection.
But make no mistake in thinking Tinder deserves all the attention here. Badoo also fares very well in the rankings. The dating app is part of Bumble Inc., which consists of three dating apps in total: Bumble, Badoo, and Fruitz. Collectively, Bumble Inc. has six placements in the index, with Badoo reaching the top two in all GEOs except for the United States.
Bumble revolutionized the dating app landscape with its women-oriented platform – founded by former Tinder employee Whitney Wolfe Herd. The global dating app is now setting a precedent for other women-friendly dating platforms. In three years, since 2019, Bumble has managed to close in on Tinder after Bumble saw its share of global MAUs reach just under 20 percent.
Takeaway 2: It's the Battle of the Conglomerates
All's fair in love and war. The index reveals stark competition from Match Group – comprising over 45 global dating companies – and The Meet Group. Match Group, with 13 placements in the index, owns Tinder, Meetic, OkCupid, Hinge, and PlentyOfFish. The Meet Group, an adjoe partner, has ten placements in the index with high-ranking apps such as MeetMe, LOVOO, Skout, and Tagged.
But not every top-ranked dating app in the index above is part of a massive dating app group. LGBTQ app Grindr and the French dating app Happn are fending for themselves among the two conglomerates. In the index, Happn takes three impressively ranked placements in the United Kingdom, Brazil, and France. Meanwhile, Grindr achieves five placements in all five GEOs. Grindr, amassing 12 million downloads in 2021, published a report revealing that most of its users stem from the United States, Brazil, Mexico, India, and the United Kingdom.
Takeaway 3: Disruption to the Dating Landscape
There are plenty more apps in the sea. Breakout dating apps are emerging as little fish in a big pond of dating app giants. They claim to be countering dating app fatigue by becoming more niche. Instead of inviting everyone as a user, more and more dating apps look to boost user engagement by only appealing to very specific demographics. These apps market themselves as exclusive to a certain religion, sexuality, lifestyle, and wealth status – for example.
We've looked primarily at time spent in dating apps in this index, but there's a new dating app on the scene in London and New York. Thursday, actually strives to reduce the amount of time spent in dating apps. With its slogan "F*ck dating apps, 6 days a week," the UK-launched dating app is only live on Thursdays and plans to roll out in more UK cities. With this USP, the app heavily compresses swiping and matching, driving users to be more proactive and hyperengaged. All matches and chats disappear at midnight in "true Cinderella style."
adjoe Data: User Engagement (without the Ring)
Now that we've established who's using what in terms of dating apps, let's move on to how long singles spend on their dating apps in each GEO.
Our data told us that user engagement in one dating app typically spans from 18 to 26 minutes in these mobile-first markets. The European GEOs currently reign in terms of average time spent on dating apps per day. Our data shows us that Germany bagged the top spot for average time spent on a dating app per day, with 25.7 minutes, followed by the United Kingdom and France.
According to our index, Germany's top-ranked dating app by average daily time spent is LOVOO. The Parship Group-owned dating app has been one of the most popular dating apps in Germany for the last decade. The app is loved by its users for pairing them up with other singles based on common interests – even during the pandemic, when its users benefitted from "live dating features to offer safe and fun alternatives." These alternatives, such as the livestream dating feature, have managed to drive engagement and time spent in the app.
Then, at just over 18 minutes per day, singles spend less time swiping across the pond in the United States. Despite this lower engagement rate, App Annie reported that consumer spend on dating apps in the United States almost hit an impressive two billion US dollars last year. This represents a growth of 142 percent since 2018 and 40 percent since 2020. This is the largest growth of any other GEO.
adjoe Data: It's All about the Flirty Thirties and Naughty Forties
Age is just a number, but it is a useful number when you're trying to understand who is spending the most time on dating apps.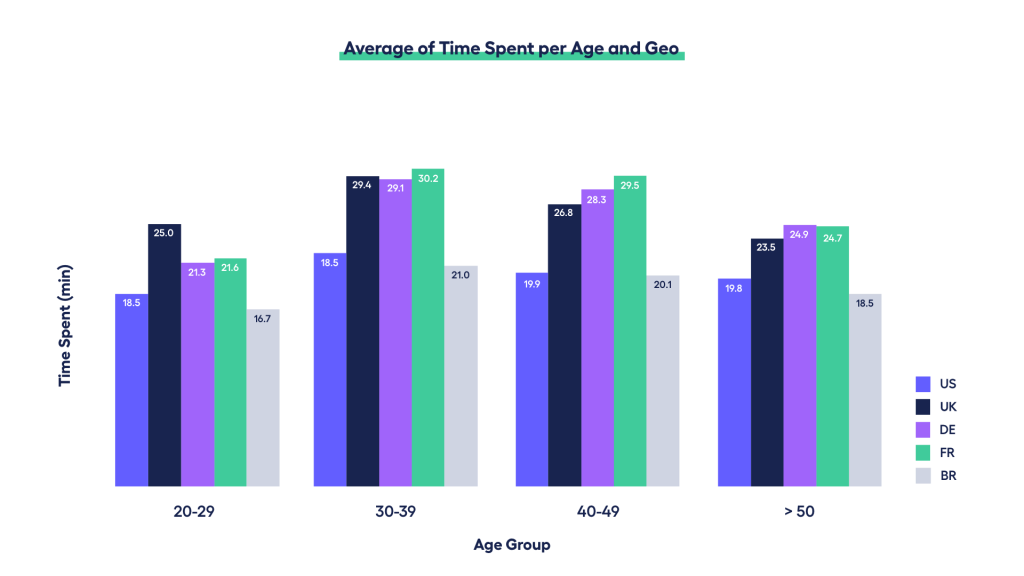 Broken down by GEO, adjoe's data showed us that the average time spent on dating apps by age is mostly similar. Across the board, soulmate seekers in their thirties seemed to spend the longest time on average per day; this was closely followed by dating app users in their forties. For the United States, Germany, France, and Brazil, people in their twenties spend the least time on dating apps per day. In the United Kingdom, however, the 50+ age group spends the least time on dating apps.
Reports have alluded to the fact that Gen Zers are unsatisfied with the conventional dating apps out there. Instead, they'd prefer to use dating apps that replicate the social media platforms they're more comfortable with – such as TikTok and other video-sharing platforms. In 2021 Tinder even shared via a press release, stating that it was shifting its focus on video-related content to provide its younger users with a more "multidimensional" dating experience. Only time will tell how this revamped feature will be received by the Gen Zers.
Lucrative Love: Deep-Diving into Revenue Data
Both dominating the top spots for consumer spend in the dating app market, the United States and Germany have seen their consumer spend climb by over 110 percent since 2018. While famous for its language of love, France witnessed only 28-percent growth over the same time span and reached its peak in 2019. Nevertheless, this GEO saw its dating app market recover in 2021, with consumer spend reaching over 133 million US dollars. We'll definitely want to watch how this fluctuating market develops over the coming months.
We've seen more and more how dating app publishers are tapping into hybrid monetization models to boost consumer spend. This is much like the rest of the mobile app ecosystem. From subscriptions and in-app advertising to in-app purchases – such as Tinder's Super Like feature – dating apps are using all the tricks in the book to monetize their users. The Meet Group is no exception here. It rolled out two new gifting and gaming features in its apps via livestreaming, before moving on to rewards-based ad formats, such as adjoe's Playtime, in its apps. Introducing these new dimensions in these apps has allowed publishers to find ways to increase both time spent in their apps and also unlock new revenue streams.
Your Lowdown on the Landscape of Love
While the global dating app ecosystem looks like it's heavily dominated by dating app conglomerates, such as Match Group and The Meet Group, we could see more breakout apps emerging across the globe. These apps may well pack a punch, with a strategy to better segment their singles and engage younger demographics through video content. If dating fatigue does begin to emerge in the market, we can expect new app features to also emerge. More video-sharing content is a good bet, but we also need to consider how the easing of restrictions worldwide will affect user behavior on dating apps.
And, as with any app out there, though, it has never been just about user engagement. Figuring out how to best monetize those engaged users will play a key role in determining which dating apps and which GEOs come out on top over the next few years.