How to Maximize Revenue in 5 Steps with Playtime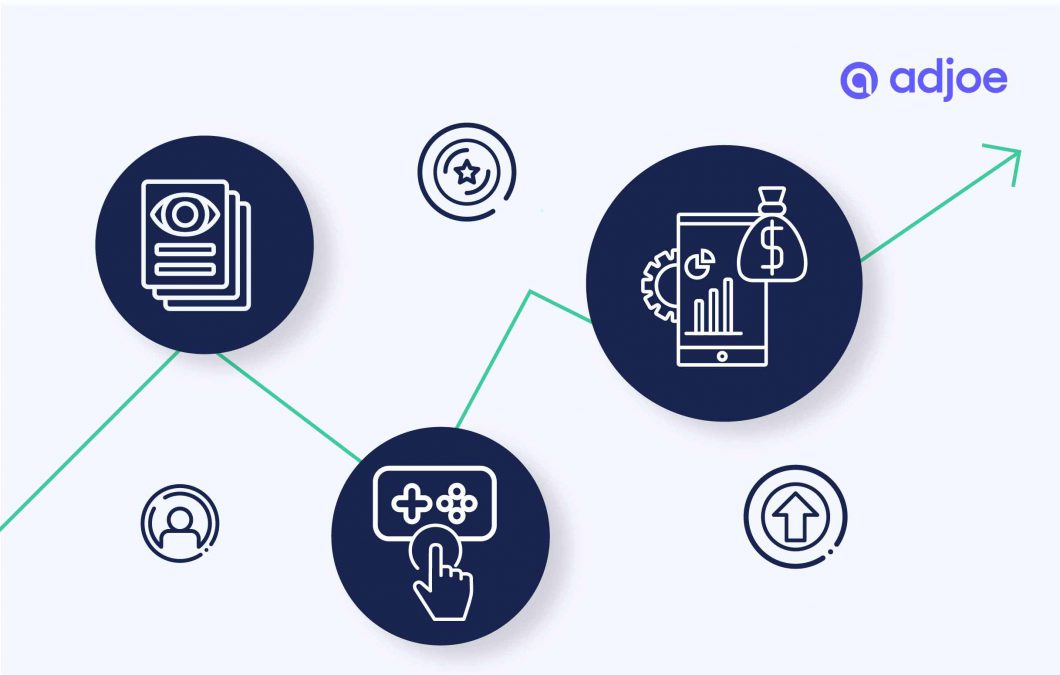 Rewarded ad formats have seen impressive growth over the past year. adjoe's own time-based rewarded ad unit Playtime has even seen an increase of over 400 percent in monetization revenues over the past 12 months. This comes as more and more publishers integrate the new format.
With the mobile ecosystem now demanding more diverse monetization strategies, knowing how to maximize revenue and user engagement with Playtime is absolutely essential to help you meet your next monetization milestone.
Here are the five best practices for publishers to benefit from the power of Playtime.
1. Make Playtime Visible
To maximize revenue, add Playtime where your users are. Placements found on the home screen and in the in-app store are among the most effective. Users intuitively go to these pages when seeking additional resources in an app. By showing placements in high-traffic areas, publishers are able to increase the exposure of the format, leading to a higher percentage of users opening Playtime. This translates to more than 30 percent of revenue coming from such placements.
2. Show Playtime at the Right Time
In addition to a static home screen or in-store placement, making Playtime available when the user is in need of currency can also be a powerful tool. Publishers can show Playtime in between levels to extend gameplay or as a pop-up when a user runs low on currency. These additional placements can help increase your ARPDAU. They give users more opportunities to earn as well as engage those who have a direct need for more currency.
Showing different placements in various stages of the user's journey drives higher revenues, as each provides incremental revenue. This is due to the fact that some players are more receptive to the format at different stages of their gameplay. For example, we've seen that some users prefer to engage with Playtime exclusively when they are running low on currency. Other users conversely engage with the ad format when they view the home page placement.
3. Increase Opt-In Rates; Share the Value of Playtime
Playtime gathers a GDPR- and CCPA-compliant user opt-in. This provides users with both a secure reward experience and personalized gaming offers. Publishers can maximize user opt-in rates by ensuring that the value of the format is clear to their users. They can do this by adding an optional landing page that enlightens users about the value of sharing their data and enabling app usage tracking for continuous time-based rewards.
Users who clearly understand what their data will be used for and how it will improve their user experience drive higher opt-in rates and revenues for publishers. More users thus successfully receive the "full" adjoe experience.
4. Give Your Users the Power of Choice
IAP revenue isn't for everyone – and neither are ads. But empowering the user to choose the most effective monetization method for them allows publishers to earn for every user. Not just the five percent who spend in the app. If you're looking for how to maximize revenue sustainably and successfully, revenue diversity is a no-brainer.
What drives Playtime's success is its ability to give users a sense of what it's like to be a paying user. This increases user engagement in an app. From a revenue perspective, publishers earn as much – if not more – for a Playtime user than they would if they made an IAP. This allows Playtime to not only drive more revenue per user – it also pushes the users further in the publisher's app by keeping them engaged.
Rewarded ads also help scale IAP revenue. According to Marketing Dive, including rewarded formats increases the likelihood of IAPs by 4.5 times – users are given a taste of what it feels like to be a paying user. This makes formats like Playtime an asset to drive extended gameplay, increase ARPDAU, and payer rates.
5. Offer Promotions for Incremental Growth
Once you have the perfect placement – and your users are hooked – promotions can boost a publisher's revenue during select time periods. Double-rewards weekends have been proven to increase activity in the publisher app, as users are able to rapidly earn rewards through the Playtime format. This gives users a chance to progress faster or purchase more items during the promotional time period. In the meantime, publishers benefit from higher revenue.
By sending users notifications to inform them of reward promotions, publishers are able to increase engagement as well as the number of new users opening Playtime. This drives long-term growth. Combining promotion and notification has led to an increase of two to three times greater revenue for publishers during the promotional periods.
Want to know about how our partners have successfully grown their revenues and engagement rates with Playtime? Well, you'll probably find what you're looking for in our Success Stories.
Prodege Doubles Mobile Revenue with Playtime
Bitcoin Aliens Increases Revenue by Over 70% after Adding Playtime