What Are Hypercasual Games?
Hypercasual games are mobile games that are extremely engaging, instantly playable, and lightweight in their mechanics. Titles of this mobile game genre typically become popular worldwide based on their simplicity and addictive gameplay.

Unlike other mobile games, which can take months to produce, conceptualize, and prototype, these games can be launched into the market within a matter of days.
Key Takeaways
The most successful hypercasual games are fun, simple, addictive, and cheap to make

Hypercasual gamers typically spend around 7.4 minutes on a playing every day

Hypercasual games are known for having a notoriously short life cycle
What Are the Types of Hypercasual Games?
Think of hypercasual games as similar to the classic arcade games of the 70s and 80s. They are short and snappy by nature. Remember Pac-Man? Regardless of the hypercasual game, these games revolve around one or two mechanics to keep the game simple and satisfying.
Although there are numerous types of hypercasual games, they share common characteristics between them. Their user interface (UI) is typically bright, simple, and minimalistic. Here are a few hypercasual game examples.
Puzzle
A player carries out a sequence of actions to solve a puzzle. These puzzles are normally easy to complete and levels typically last less than a minute.
Agility
A player must dodge obstacles to collect items or move to the next level. Agility and hand-eye coordination become more and more important as the user progresses through levels.
Timing
A player needs to race themself to reach their destination within a certain time frame.
Stacking
Objects typically fall from the top of the screen, which the user must slot into a space on the screen. Think of Tetris.
Hypercasual Games List: What Are Users Playing?
As part of adjoe's collaboration with Statista, we investigated which hypercasual titles ranked top in the biggest mobile gaming regions. These include North America, Europe, Asia Pacific, Latin America, and Africa. From the data collected – looking particularly at highest daily usage in minutes – we found that certain titles were a hit with hypercasual gamers in more than one region:
Chain Cube – Ranked in the top five in North America, Europe, LATAM, and Africa
Idle Arks: Build at Sea – Ranked in the top five in North America, Europe, APAC, and Africa
Cat Escape – Ranked in the top five in North America, Europe, and LATAM
Save the Girl – Ranked in the top five in North America, Europe, APAC, LATAM, and Africa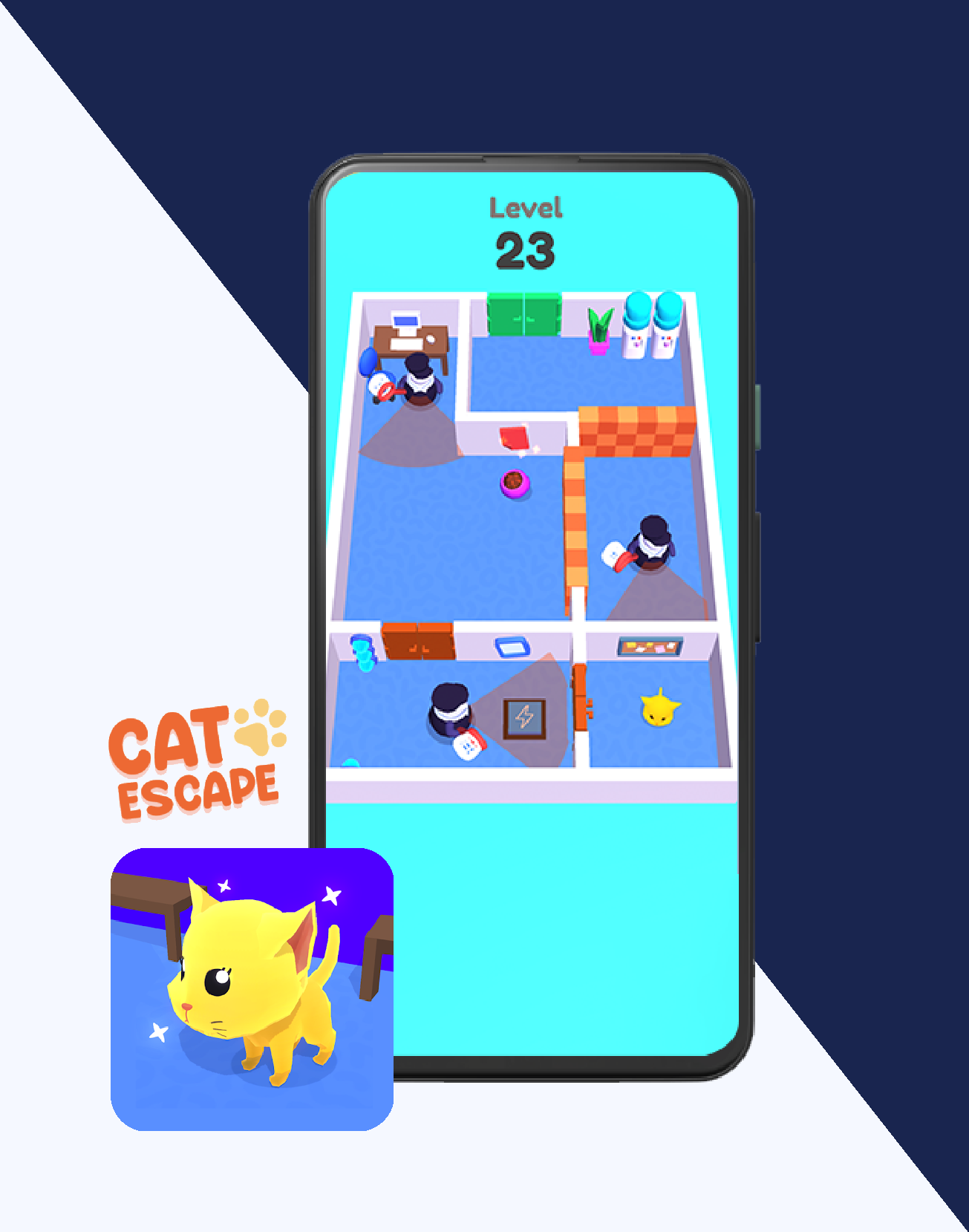 Who Typically Plays Hypercasual Games?
Broadly speaking, a hypercasual game's target demographic is those who want to switch off while commuting or watching TV, for example. Looking at where the most time is spent playing these games per global region, Europe and Asia Pacific currently both dominate the top spot. They're followed by Latin America, North America, and Africa.
Although popular with both genders, women spend more time playing hypercasual games than men. This is according to the Mobile Games Index released by adjoe and Statista in late 2021. At just under ten minutes of gameplay per day, hypercasual game sessions are on average longer among users aged 50+?
How Do Hypercasual Games Make Money?
In the past few years, this mobile gaming genre has experienced unprecedented growth, taking the mobile gaming industry by storm.
From a hypercasual developer's perspective, these games are attractive, in that they do not cost much to make or launch. From a hypercasual gamer's perspective, these games are equally enticing because they are usually free to install and play. So, how do hypercasual games make money? Around ten percent of overall revenue generated in this mobile game genre is through in-app purchases; the other 90 percent comes from in-app advertising.
Banner Ads
A snappy ad format, banner ads are used in most hypercasual games and are a simple way to generate ad revenue. Similar to a small virtual billboard, this ad unit only takes up a small portion of the user's screen and allows players to carry on in their gameplay without any restriction on their experience.
This gives hypercasual developers the ability to effortlessly monetize their users without being overly intrusive. Even though they are a core part of a hypercasual game's monetization strategy, their biggest drawback is the low amount of ad revenue they generate. Banners tend to have lower eCPMs and thus do not pack as much of a punch as other ad units.
Interstitial Ads
This dynamic ad format is skippable after a user has watched for a few seconds (for example, five seconds). Unlike banner ads, interstitials are more prominent, as they take up the entire screen.
Interstitials are among the most popular ad units that appear in hypercasual games. This is because they boast higher ad monetization power compared with banner ads. When done well, they can be seamlessly integrated into the core gameplay of the hypercasual game. For example, it is common for interstitials to appear at natural pauses in the app's flow – such as between levels. This specifically is a highly effective way to monetize your traffic.
Having said this, it is key for developers to find the right setup for their interstitial ads by defining the right timing before making the ad skippable. If users need to watch 30 seconds of an interstitial before they can skip it – or this ad format appears too often during gameplay – they can become frustrated and alienated from the game. Constantly interrupted playtime can result in lower session lengths and user retention.
Rewarded Video Ads
The final ad unit most commonly used is rewarded videos. These allow app users to opt in to watch a 30-second ad in exchange for in-app currency. Rewarded videos appear when a user needs more points, lives, or another in-app currency to continue playing the game. Incorporating rewarded videos can lead to increased session length, eCPMs, and retention when effectively integrated into your app.
However, due to the nature of their gameplay, the in-app currency of a hypercasual game is not always necessary for users to continue playing – meaning that rewarded videos can experience low engagement rates.
Which KPIs Should a Hypercasual Advertiser Look at?
Looking at the types of ads that generate revenue in hypercasual gaming is, however, only a one-dimensional way of looking at how this app vertical can and should bring in revenue. App developers need to establish KPIs and invest in the right marketing channel to ensure that they are effectively converting a user into revenue.
To better gauge whether or not a hypercasual game is going to be profitable, advertisers should pay attention to metrics that reflect how users are engaging with the game – and for how long.
Session time: The period of time users spend in an app – and for hypercasual games, the longer sessions, the more levels completed
Retention rate: The percentage of users who return to an app after the specific day on which they installed it (Day 0)
Average revenue per user (ARPU): The overall revenue divided by the number of users in a specific period of time
Lifetime value (LTV): The overall profit that the average user is set to make
A higher lifetime value is the ultimate goal for hypercasual game publishers, as user acquisition teams can then go on to use their LTV to scale up and spend more on growing their user base further. The most successful games increase their lifetime value by optimizing their ad monetization strategy, improving retention, and investing their media budget into the right networks.
Conclusion
So, why are hypercasual games so popular? The most successful hypercasual games become viral because they are addictive, instantly playable, and easy to understand. This means users can play them to relieve stress and pass the time.
On average, the time spent playing these games per day is as much as 45 percent less than the time spent playing other mobile games. Let's get some context regarding this notoriously short session time. Casual games – including board, card, and trivia games – tend to capture mobile gamers for a much longer timespan – for just over 24 minutes per day on average.
So, advertisers must tackle short session times in order to boost ad consumption and to maximize the return on ad spend (ROAS). They must come up with a solution to drive hyperengaged users further and further into what is already an addictive game.
---
FAQs
What Are Hypercasual Games?
Hypercasual games are lightweight, fun, and highly compelling games that are instantly playable and often go viral due to their addictiveness. They typically cost little to develop or launch.


How Do Hypercasual Games Make Money?
A total of 90 percent of revenue made from hypercasual games is ad-based; the remaining revenue usually comes from in-app purchases. The most successful hypercasual games leverage their ad formats so that gameplay is longer and users consume more ads.


Which KPIs are Most Important in User Acquisition?
When it comes to this mobile gaming genre, average revenue per user and lifetime value are typically seen as the most important KPIs in terms of user acquisition. However, session times or levels completed and retention should also be taken into consideration.


How Can Hypercasual Game Advertisers Increase User Acquistion?
It is important to know how to market hypercasual games but also where to market them best to acquire the right users. Hypercasual game advertisers should identify which marketing platforms help them best find hyperengaged users who are more likely to spend longer playing their app and therefore complete more levels.


---