The world is slowly moving away from cabin fever back toward cabin pressure, with the travel industry back on track to recovery and normality. The peak season for summer travel is fast-approaching, and airline bookings are looking strong – the global flight volume is forecast to increase year on year by roughly 33 percent in 2022. It's the long-awaited rebound the travel industry has waited for ever since COVID-19 plunged the world into lockdowns and travel restrictions.
While monthly overall mobile app usage rose by an astronomical 40 percent year on year during the pandemic, we all know that travel apps did not have the luxury of riding along on this positive trend. Among all travel apps categories, the share of users on airline apps was hit especially hard. But now, at the tail end of the pandemic, we have already seen sharp increases in general travel app downloads in late 2021. These download numbers have even closed in on prepandemic download figures at a percentage decrease of six percent compared with late 2019.
With this fierce resurge in travel app interest, can we expect to see airline apps recapture their users after these turbulent two years? Only time will tell (quite literally).
Which Are the High-Flying Airline Apps?
The pandemic set in motion a definitive shift toward mobile-first behavior on a global scale. We're now looking at app users in growing and mature markets who spend on average just under five hours every day in their mobile apps – that's 30 percent more than before the pandemic. With travelers now more woke to digital mobile experiences and eager to book their next vacation, we wonder which airline apps travelers favor the most in this highly volatile postpandemic landscape.
To find out, we analyzed adjoe's first-party app usage data on Android across four GEOs – the United States, France, Germany, and Brazil – and ranked the most popular mobile apps based on how long potential passengers spent in the app between May 2021 and April 2022.
Whether app users are browsing, booking, or managing flights, our data has revealed that the following airline apps are the best in the business at driving longer app sessions in their respective GEOs.
Key Takeaways
1. Wizz Air Steals Top Spot in European GEOs
Described as an ultra-low-cost carrier, 18-year-old Wizz Air brings us to believe that budget airfare is here to stay. Currently flying to 44 countries, this airline covers travelers' needs by taking a mobile-first approach and supporting the user at every stage of their journey – from research and booking to calling a cab to get them to the airport. Which is why this airline's app has become a top destination for travelers.
2. Ryanair Celebrates Top-Five Placements in Three GEOs
Ryanair has proven to be a traveler's essential app – even in regions where the airline does not operate. Founded in 1984, Ryanair created the airline's hottest market, budget travel. That's why 38 years later, a lion's share of travelers from all over the world have taken a Ryanair flight at least once in their life when in Europe. Today, Ryanair has millions of lifetime global downloads and is one of the fastest-growing airlines in terms of downloads following the pandemic, according to Apptopia.
3. American Airlines and Air France in the Midst of the Mix
American Airlines ranked within the top six airline apps in Brazil and the United States based on app usage. In fact, for the first time in over five years, American Airlines saw a significant surge in app downloads in summer 2021. Exceeding 800,000 downloads in both June and July that year, the airline app represented roughly 22 percent of the US market share among top airline apps in 2021. The French airline Air France, which globally offers both long- and short-haul flights, reached formidable midtable rankings in both France and Brazil.
Tapping into Traveler Retention
How have these airlines managed to drive travelers to spend more time in their apps? Let's move from rankings to retention.
It's not just the airline industry that has taken a knock as a result of the pandemic – so has global customers' confidence in traveling. In order to remain a true competitor among the numerous airline apps out there – especially, after the financial nosedive the industry took due to the pandemic – airlines need to optimize their digital service. They need to transform this wariness to travel into trust, retention, and repeat business.
Airline apps aren't like mobile games or weather apps – or even other transportation apps, since app engagement is based on the traveler's situational needs. But even though engagement with airline apps is different when you compare it with other apps, retention is still crucial – and these airline apps must hussle hard to hook their users by optimizing UX at every stage of the in-app user flow. It's a tough gig for airline app developers, but now is the time to disrupt how these apps retain their active users.
Leveraging Loyalty Programs
Experts within the app economy would agree that the answer to repeat business – to higher retention and user intent – is stronger airline loyalty programs. Airline loyalty programs have been rewarding customers with points – or miles – for years. The loyalty lure is simple and easy:
A customer signs up for an attractive airline loyalty program in the hope of receiving financial rewards and perks on future flights and journeys
The customer books with their favorite airline and avoids time and effort wasted on comparing flight deals with other airlines
The customer receives notification of how many points they received after they have landed and are driven to collect more points in return for a reward
Using this win–win model, airlines typically end up reporting multibillion-dollars' worth of loyalty revenue. Take, for example, American Airlines, whose loyalty program is the most valuable part of its business. The US airline reported a loyalty program revenue of 5.5 billion US dollars back in 2019 – in prepandemic conditions. Despite this figure, the airline has only been deemed as the seventh-strongest airline in terms of its rewards program, giving its frequent flyers 9.4 US dollars per 100 US dollars spent on tickets. Compare this with Hawaiian Airlines – the top airline app in the US for driving longer sessions – which awards its flyers with over 24 US dollars per 100 US dollars spent.
If airline apps thus increase the value of their loyalty programs for their users, their retention and engagement metrics might just take off, too. But in a market so saturated with loyalty apps, how can airlines redefine the user experience? How can they invite users to interact with the airline more and earn and redeem their hard-earned miles in a game-changing way?
Monetizing Those Miles
The airline industry has always been looking to monetize with in-flight shopping, in-flight movies, and by giving users the chance to earn points to fly for their everyday purchases.
In order to set themselves apart from the competition, airlines are partnering up with premium brands across various sectors. Through these partnerships, users earn points for booking specific hotels and restaurants or for using particular travel agencies, retailers, service providers, or energy providers within the airline's loyalty program network. Diversifying in-app opportunities for users to earn points with their favorite airline ultimately generates higher value for the user – and gives them good reason to spend more time and money engaging with the airline.
Airline apps even offer users a way to earn miles without a financial investment. That's why airline apps have looked at incorporating surveys to reward their users. In fact, the majority of airlines ranked for app usage in the States – such as Hawaiian Airlines, Alaska Airlines, JetBlue, Southwest Airlines, United Airlines, and American Airlines – offer rewarded surveys as a way for regular passengers to earn miles in their favorite airline loyalty app. But airlines could now tap into another disruptive tool taking off in the mobile app economy: mobile games.
(On)Boarding Soon: Gamification Mode
Given the hefty competition in creating the most holistic consumer experience, the pressure is on for airline apps to diversify their revenue streams and ways to reach – and retain – more travelers. Looking at the demand for better user-friendliness in mobile apps, app gamification seems to be the overriding answer airlines are looking for to broaden their loyalty program offerings and enhance their service.
Besides the more traditional ways to earn points, more and more nonpaying airline app users are looking for instant, easy, and enjoyable ways of winning and redeeming rewards. Rewarded models, such as adjoe's Playtime, where users are rewarded purely for their time spent playing advertised mobile games, could in future prove a valuable way of driving users to spend longer sessions and keep them connected with their favorite airline. In return, these users would be able to earn more points and miles to get discounted flight tickets, seat upgrades, or other benefits.
Why Gamification?
The mobile-first generation is moving away from digital apps for information – they are now a destination. Let's look at the market airlines would be targeting with in-app gamification. The number of active mobile gamers worldwide is expected to rise to over 2.5 billion by 2026. The global mobile gamer penetration rate will grow by an extra four percent over the next four years to 29 percent. It's thus a natural progression for airlines to take their comprehensive loyalty programs to the next digital frontier, mobile gaming. The next wave of connecting with app users is already here, and it's an imperative for brands who want to stay ahead of the curve to invite their customers to earn loyalty points through mobile gaming.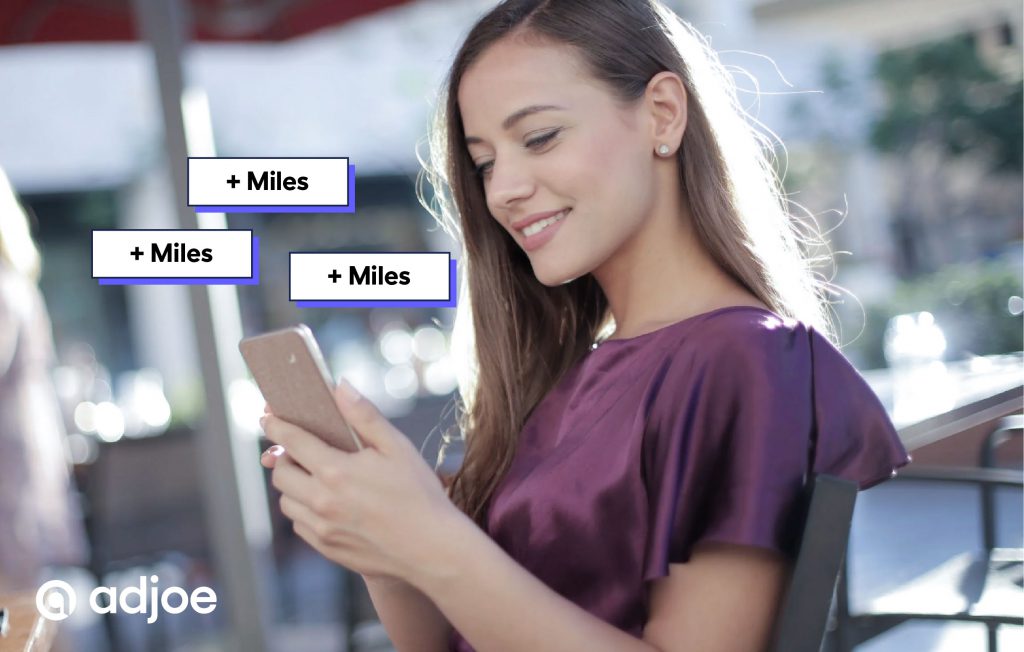 Imagine this:
A regular jet-setter has 998 miles in their airline loyalty program and needs just two more points to receive a discount on a future booking.
The app user spends time in the Playtime app and enjoys playing popular mobile games for free for a certain session duration.
They instantly earn the necessary two points, which are added to the user's account in a couple of minutes.
The user is satisfied and can now benefit from a booking discount, the program hits its KPIs in terms of user engagement and retention, and the airline profits.
Now that the travel industry is rebooted, airline apps could be looking at revolutionizing their loyalty programs with pilot projects such as Playtime.
Airline Apps: Reimagining The Runway to Retention
"Travel is the only thing that makes you richer." While the saying might strike a chord among travelers embracing travel after two years of restrictions, airlines need to redefine and reevaluate what makes them "richer" – so to speak. Driving repeat business with active users will increase their lifetime value and overall revenue. So, to fight the turbulent app economy, airline apps need to rethink the way they retain their users. Especially now, with the global price of living and traveling on the rise.
It's not just about being the best airline or having the best app. The top airline apps have successfully grown their digital presence and the time users spend in their apps by being the top choice for booking flights and creating a holistic customer experience beyond just traveling. They have to connect with their customers and capitalize on user retention mechanisms such as robust rewarded programs, which bring users closer to their brand both on and off the tarmac. Regardless of whether or not airlines have made the rankings, the fast pace of the market demands fast action to steer brands into new ways of connecting with new users and new sources of revenue.