What Are Your Ad Monetization Partners Not Telling You?
Loss of Revenue
They take up to 60% of your ad revenue through the revenue-sharing model in a nontransparent way. Without you noticing.
Conflict of Interest
Mediation platforms owned by ad networks make money at the network level. That's why they prioritize their own demand sources to win the auction – not your revenue.
Old-School Selling
Not all of their demand sources support in-app bidding, and you can't take advantage of competitive bids in the traditional waterfall model.
We've Changed the Game and Put Publishers First
No Revenue Share
Earn 100% on your inventory from hundreds of adjoe's direct advertisers. Our premium advertisers are waiting for you.
No Biased Auction
This ad mediation platform is about a fair first-price auction between adjoe, other bidders, or your own. The highest bid always wins.
No Black Boxes
Avoid hidden costs and enjoy full transparency. Publishers only pay a small SaaS fee.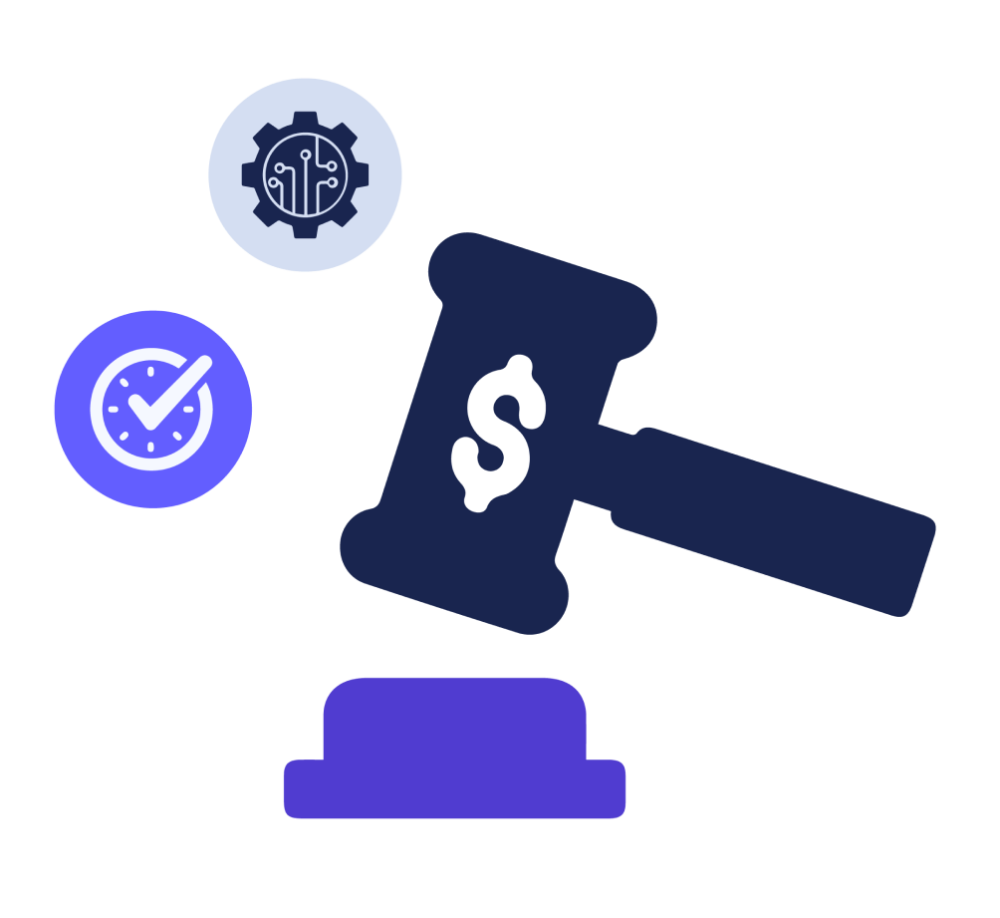 Cut the Middleman Margin; Boost Your eCPM
WAVE leverages adjoe's premium direct demand with a 0% revenue-sharing model. adjoe bids high for your inventory and drives high competition between all your demand sources – leading to higher bids for you. So, no conflict of interest. Our focus is on helping you achieve your highest eCPMs.
Full Transparency for Fair Competition
Fairness comes first: The highest bid always wins with our ad mediation. WAVE offers you an open marketplace to achieve a competitive yield, without prioritizing any buying resources over another. This true competition between advertisers without any hidden fees will take you to your highest revenue levels.
Go Bidding-Only
No waterfall, no biased data, no manual work. Our bidding-only ad mediation model lets all demand sources bid on each impression simultaneously in real time. Let the algorithms do the work, and never risk losing out on a potentially higher bid.
How WAVE Removes the Conflict of Interest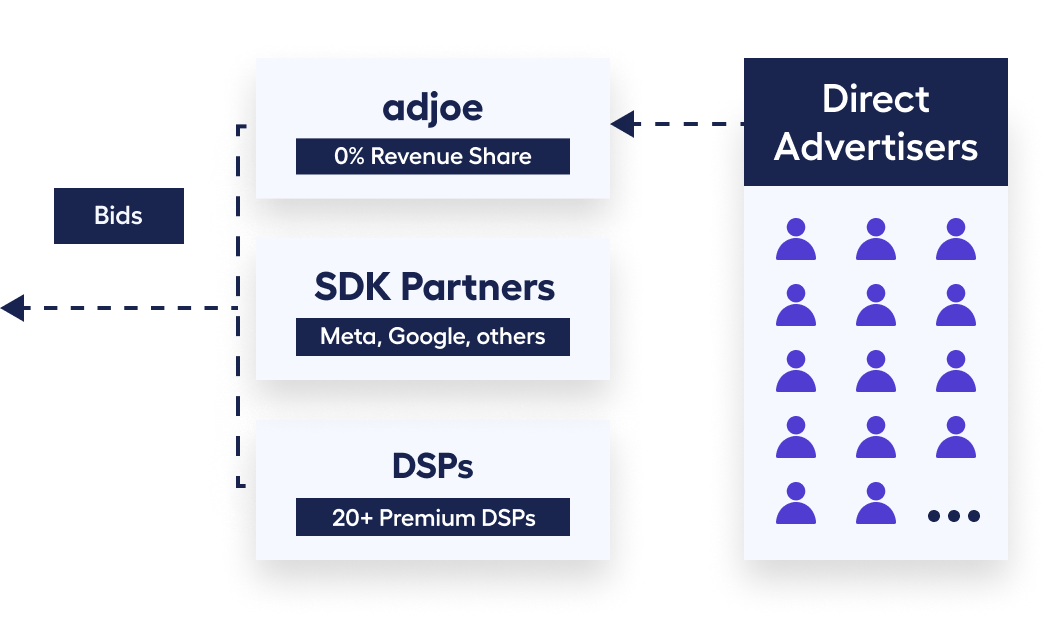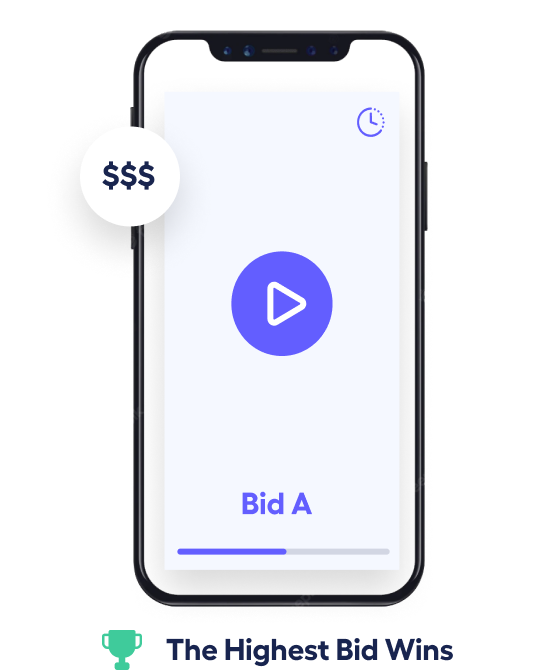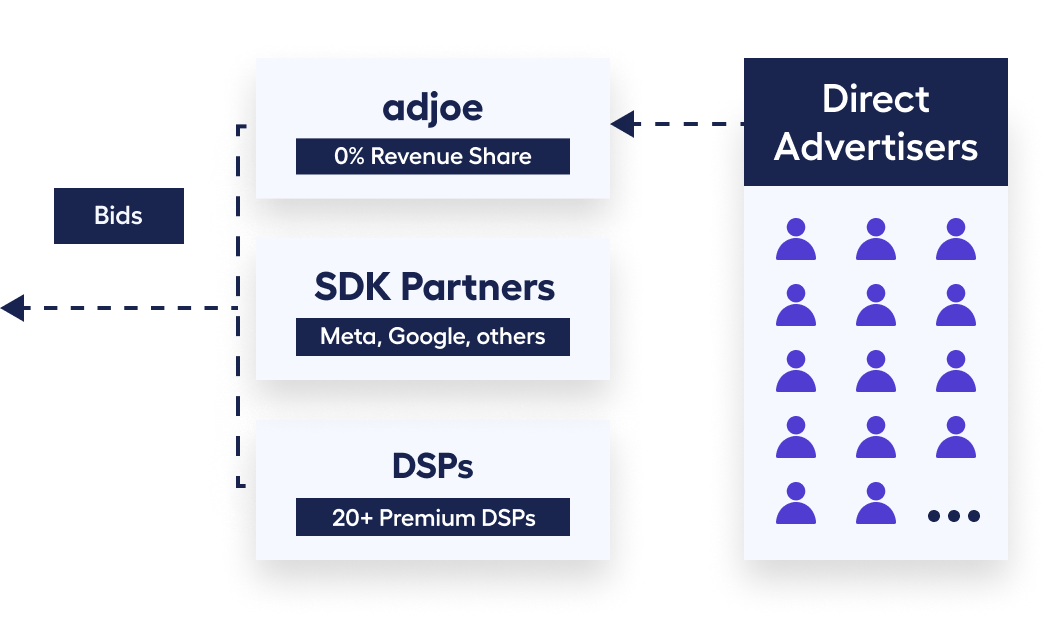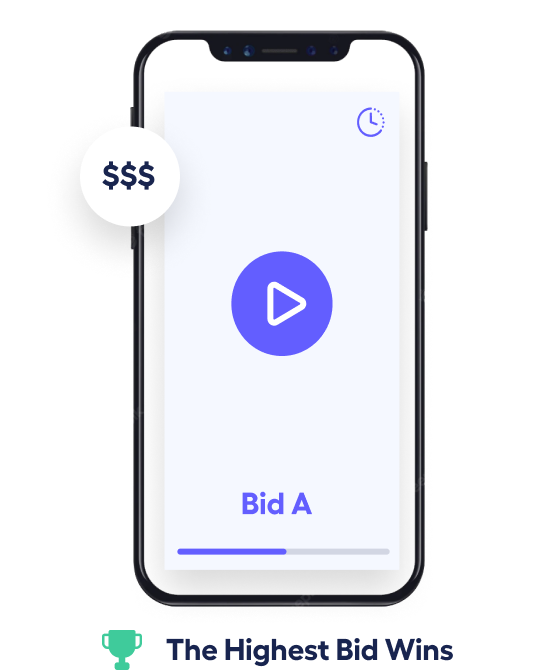 Publishers Benefit from Competitive Bids and Unlock Their Full Revenue Potential
Enjoy a fair first-price auction – without sharing your revenue
adjoe's direct demand boosts competition
The highest bid wins the auction; you maximize your earnings
The winning ad is served; WAVE charges only a small SaaS fee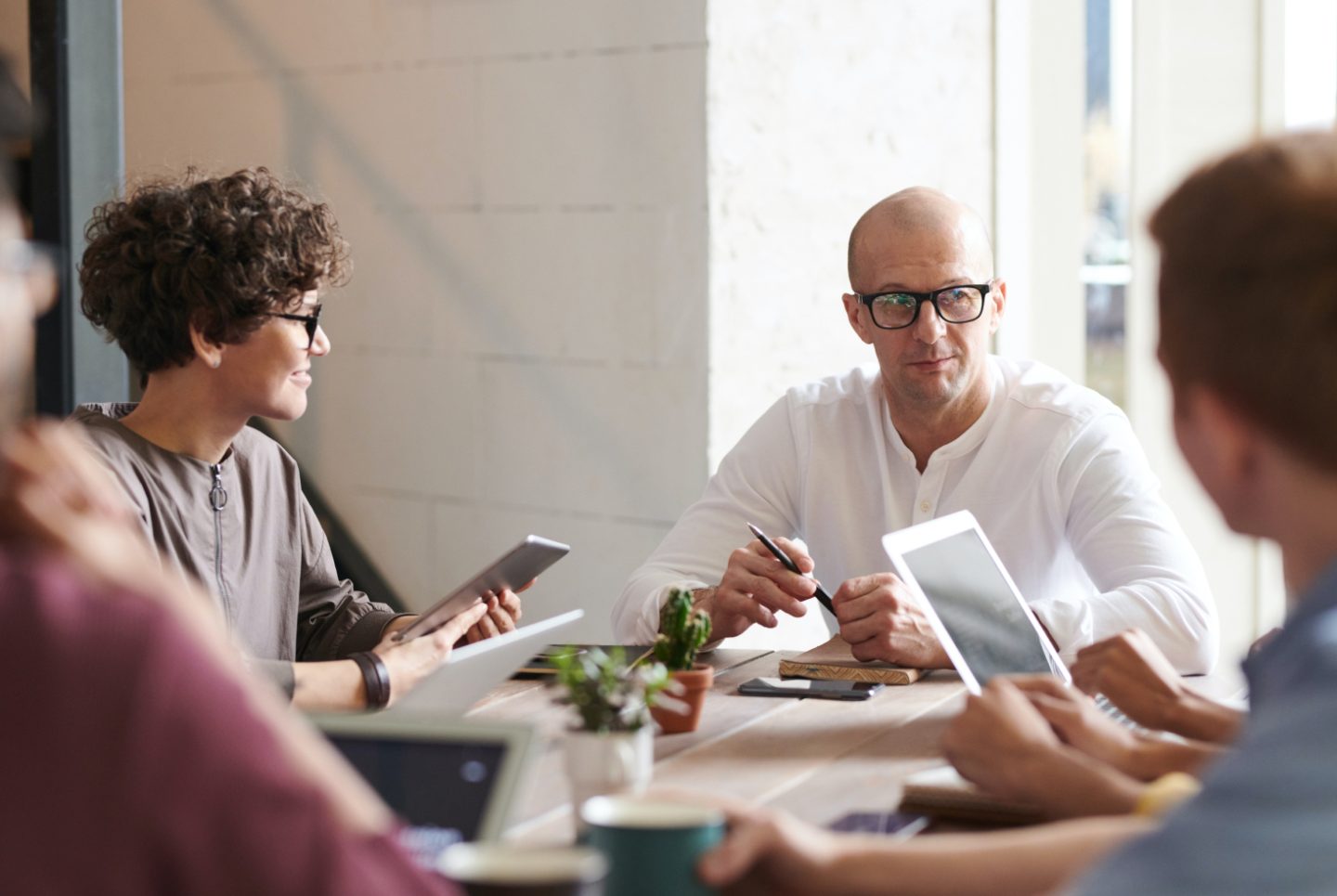 Ride the Wave of High Revenue
Sharing your revenue with ad networks and being left with a low margin is unfair. So, we've reimagined the ad mediation market and redesigned it to give publishers more control.
Benefit from a Ready-to-Use Solution
Building your own tech stack for an ad mediation platform might be risky and costly. We provide you with advanced technology and a dedicated sales team. Take a smart step toward a risk-free solution.
Reach High User Engagement
Leverage different ad formats – rewarded video, interstitial, playable, banner. Find the right ad stack for your app and generate ad revenue on a single platform.
Offer Your Users a Better UX
Waterfalls come with latency. Bidding-only technology requires fewer steps to serve ads and ensures fast loading times. Let your users enjoy a seamless ad experience.
What Makes WAVE the Best Mediation?
We empower publishers to take control of their revenue.
Access global and direct advertiser demand
Onboard your own demand for free
Enjoy a bidding-only and first-price auction
Leverage various high-performing ad formats
Celebrate full transparency and fair competition
Avoid waterfall pitfalls and manual work
TRUSTED BY