Time is money, and the time spent metric in mobile gaming is a powerful one. Hardcore gamers emerged as some of the most engaged gamers according to adjoe and Statista's latest Mobile Games Index, spending between 13.8 and 19 minutes in daily gameplay. While these numbers don't outperform other verticals', such as casual games, we know that RPG gamers are still committed consumers. After all, they didn't rank as the singlemost monetizable mobile game vertical worldwide for nothing …
The race is on for hardcore developers to effectively keep retaining their users in a volatile post-pandemic era of mobile gaming. While daily session durations in hardcore titles have climbed by two to four percent in Europe and Africa, developers face declining daily app usage metrics of up to eleven percent in North America, APAC, and LATAM. Every minute counts when it comes to a mobile gamer's session duration – even one extra minute of gameplay a day makes all the difference.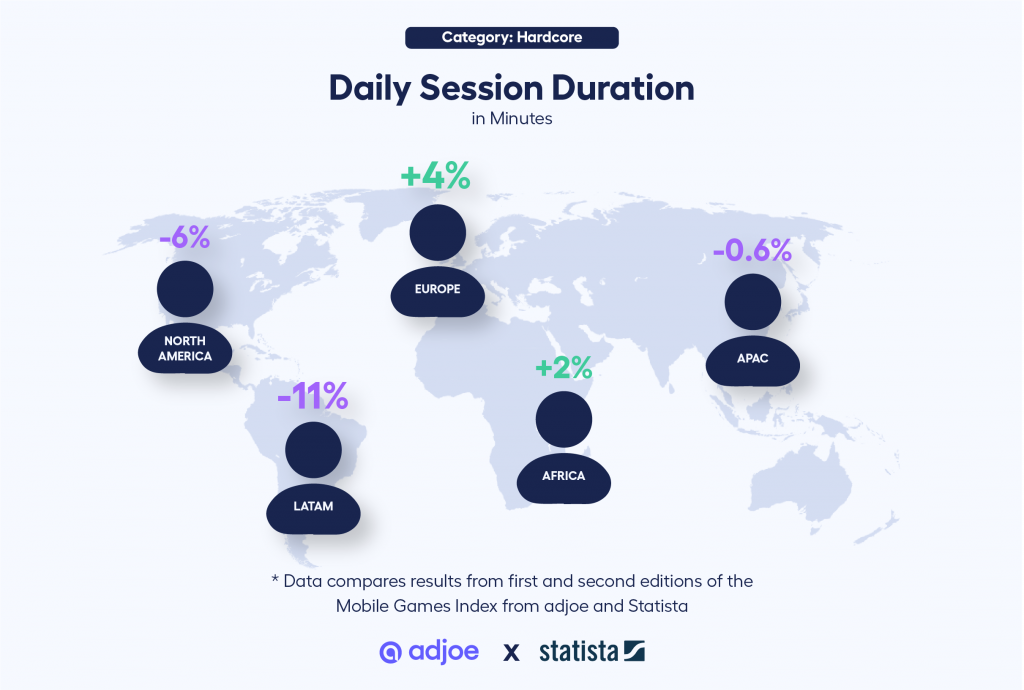 Rallying role-playing gamers to invest more time in their favorite titles means really getting to grips with how the heroes of hardcore games operate. Developers need to identify what makes the highest-retention role-playing games keep their users in the game.
Co-Op Gameplay Calls on Connection & Competition
Rankings and KPIs for the most popular mobile games out there might fluctuate year on year, but RPG titles owe a lot of their success to one constant common denominator. Data suggests that hardcore gamers invest, on average, around 16.4 minutes per day in their favorite games, seeking real-time connection and shared experiences within a competitive community.
When high-retention role-playing titles such as Summoners War and Guardian Tales drive longer session durations, it's rarely by coincidence. Because just as these gamers are strategists by nature, the top RPG developers have strategies up their sleeves. They capitalize on the core interactive elements of a hardcore game to draw longer in-depth gameplay from their users – such as:
live-chat elements
leaderboards
esports tournaments
high-resolution themes and creatives
stunning soundtracks
ultra-immersive gameplay
1. The Lure of the Leaderboard
There's success in progress. The hook of hardcore titles is their persuasive progression mechanisms – so, it's no surprise that successful mobile RPG games exploit leaderboards and PvP tournaments to bring out the compulsive competitor in their hardcore gamers. To advance up the leaderboard, role-playing gamers are compelled to spend more time mastering their gaming strategy, leveling up their skillset, and planning their next move to outmaneuver opponents.
Breakout titles such as Ulala: Idle Adventure – with an impressive four top-five placements in the Index for daily app usage in APAC, Europe, LATAM, and North America – invite its gamers to take on other players in real-time tournaments, driving highly competitive and cooperative gameplay. Ranked top for session durations in the same regions, Com2uS' Summoners War literally summons its most committed and qualified gamers to take part in an esports World Finals Event – where the champions can win up to 100,000 US dollars. So, time (spent) really is money. When you look at mobile esports, this is true for both player and publisher. 
As this massively motivating multiplayer space starts to evolve in other regions, embracing 5G connectivity would fuel the opportunity for more immersive esports experiences. Because with strategy and role-playing games being low latency by nature, 5G technology would promise hardcore gamers an upgrade when it comes to instantaneous PvP gameplay. Looking to the future, as both mature and developing markets gain greater access to lower-latency connectivity, developers around the world will also gain greater access to a whole host of engaged hardcore gamers. And also a greater opportunity to host these fiercely competitive multiplayer events.
2. Chat Reduces Churn
Let it be known that hardcore games are skewing more and more toward a younger generation of gamers, with 30- to 39-year-olds boasting the longest daily sessions. No other gaming vertical out there has managed to win over and engage such a young user base – adjoe's SDK data from 2020 to 2021 reveals that this decline in age from 40-year-olds to 30-year-olds has pretty much happened within one year.
And with this shift in target demographic, successful role-playing titles are now shifting their in-game experience to accommodate a younger gaming generation, bringing us to interactive chat features. Live chats accentuate the real-time, community-minded feel of role-playing games, making users less likely to churn once they've bonded with other players – in turn, fueling higher LTV and retention metrics.
In these titles, it's almost just as much about just the in-game action as it is about the user's reaction to gameplay. This is where both Ulala: Idle Adventure and Hotel Hideaway: Virtual World – with two placements for Europe and APAC – enter the conversation. Hotel Hideaway: Virtual World, for instance, generates a high-quality gaming experience for its users by inviting them to chat with other users across the globe and participate along with their fellow users in live events – such as concerts performed by real-life artists. 
Several top titles, such as Guardian Tales go one step further and ensure their users are as engaged outside their favorite role-playing game as they are when they're playing. Discord chat rooms or Reddit threads, for example, offer an environment for committed gamers to talk tactics and share screenshots of their progression in the game.
3. In-Game Graphics: the Gift That Keeps Giving
The clue is in the name "role-playing game." Storytelling elements and a gamer's visual progression in a mobile RPG game urge them to stay invested in their gameplay journey and complete more levels. A new level brings along with it new foes, characters, and weapons, more intricate or seasonal themes, new creatives, and fresh backgrounds. Tell-tale signs of level-to-level progression. And with the adoption of 5G technology, more and more content-rich role-playing titles such as Netmarble's Seven Deadly Sins will be able suck their players deeper into the game with high-resolution 3D-animated scenes, as users prepare for battles, tournaments, or other game-defining moments. 
To be immersed in gameplay is to be utterly engrossed in it, absorbed in it. The metaverse means that this stunning high-quality and realistic content can transcend gameplay into a limitless virtual world – where anyone can engage with it. Lockwood Studios' Avakin Life: 3D Metaverse explores the true limits of a 3D in-app experience by incorporating external dimensions into its title. Avid Avakin gamers are incentivized to invest even more time in the virtual shoes of their hyperrealistic gaming character – maybe some virtual Nike kicks – by sharing TikTok content of gameplay via Instagram in true cross-platform fashion.
If developers manage to masterfully integrate the metaverse into their role-playing titles, it's only a matter of time until we struggle to distinguish between the time hardcore gamers actually spend in gameplay and in other digital platforms as an extension of this gameplay.
The Road to Revolutionizing Role-Playing Games
While some RPG titles have dropped down – or even off – the retention rankings, some titles have tightened their grip on the gaming leaderboard, such as Summoners War and Seven Deadly Sins.
To stay relevant, developers need to address – even anticipate – what their hardcore gamers want from an ever-evolving gaming experience. Especially, given the threat of dropping daily app usage for hardcore games in various GEOs. With data.ai revealing that daily screen time on mobile apps is now around the five-hour mark in the top-ten mobile-first app markets, now is the time to exploit this extra screen time. To strategically drive mobile users to their favorite mobile RPG games.