Open Jobs
Are you looking for a new challenge and want to be part of the fastest-growing adtech company in Hamburg, Germany?
Director of Supply Account Management (f/m/d)
Hamburg
adjoe
Supply Accounts
Full time
Every great app out there deserves to be connected with the right users and the right revenue streams. And adjoe will give this to them.
adjoe
is a leading mobile ad platform developing cutting-edge advertising and monetization solutions that take its app partners' business to the next level. Our unique ad unit Playtime has made us one of the fastest-growing ad platforms and top-ranking user acquisition sources for app publishers worldwide (ranked #1 for growth in the AppsFlyer Index). And that's just the start: We've just launched our programmatic in-app platform in order to disrupt the status quo of mobile ad monetization. Again.
Home to an
advanced tech stack
, powerful financial backing from Bertelsmann, and a long-term growth mindset, adjoe is part of the
AppLike Group
ecosystem. A hub of disruption and thought leadership in the app economy, with a driven and dynamic workforce to be reckoned with.
Be the next tech-driven, ambitious talent to join our growing teams!
Meet Your Team:
Manage accounts, maximize revenue, drive product ideas. And be the best at it. adjoe's Supply Account Management team helps solve the everyday challenges of app publishers to reach maximum revenue profitability and promise a highly engaging ad experience. You are always asking yourself "How can we keep optimizing our user funnel?," "Where can new app placements really drive success?," and "Which technical enhancements will help my clients hit their next revenue milestone?" With a specialized skill set for both traditional and technical account management, this team has a lasting effect on the enhancement of our product and its relationship to publisher revenue.
What You Will Do:
Oversee the management, growth, and success of adjoe's external app publishers when they implement our ad monetization solutions.
Forecast and deliver a yearly revenue target for our existing partners.
Handle publisher relations within the AppLike Group (justDice and Sunday), which currently reaches over 200 million monthly active users.
Be the main stakeholder in identifying and managing any client-side technical issues.
Attend international industry events and strengthen client relationships through onsite client visits.
Align client and adjoe business goals by hosting QBRs alongside your team to ensure business growth.
Drive cross-team initiatives by working closely with our Demand Account Management and Product teams to facilitate publisher revenue growth.
Communicate, coordinate, and prioritize the right actions with the Tech and Product teams to remedy any challenges that may arise.
Play a key role in driving our product roadmap forward in order to help improve our products' efficiency and revenue.
Be a member of the Commercial Management team and report directly to the CRO.
Manage, lead, and develop your team to support their individual growth as well as help them achieve business success.
Who You Are:
You have 5+ years' experience with a proven track record in managing and developing a growing account management team with high revenue impact.
You have a revenue- and growth-oriented mindset.
You are extremely analytical and a fast learner; optimizing how businesses operate comes naturally to you.
You possess strong presentation and communication skills.
You are able to build compelling business narratives and communicate with partners on a daily basis.
You are meticulous and organized – especially, when it comes to project management.
You are an experienced negotiator and have a strong background in client relationship management.
You have advanced knowledge in Excel and PowerPoint.
Plus: You have a deep understanding of mobile adtech and the app economy.
Plus: You can assist your team in giving client support with your profound knowledge of technologies.
Heard of Our Perks?
Tech Package: Create game-changing technologies and explore the newest technologies out there
Work–Life Package: 2 remote days per week, 30 vacation days, flexible working hours, kick-ass dog-friendly office in the center of the city
Relocation Package: Visa and legal support, relocation subsidy, free German classes in the office
Never-Go-Hungry Package: Regular company and team lunches, free breakfast, impressive selection of free snacks and drinks
Health Package: Gym membership subsidy, biweekly yoga classes
Activity Package: Regular team events, hackathons, company trips
Career Growth Package: Dedicated growth budget to attend relevant conferences and online seminars of your choosing.
Skip writing cover letters. Tell us about your most passionate personal project, your desired salary and your earliest possible start date. We are looking forward to your application!
We celebrate diversity and are committed to equal employment opportunity regardless of race, color, ancestry, religion, sex, national origin, sexual orientation, age, citizenship, marital status, disability, gender identity or Veteran status.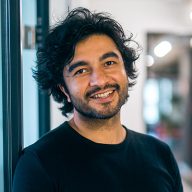 Robin
Ad Ops
What I really love about working at adjoe is the freedom to innovate. I have the ability to take ownership of all my projects and through this autonomy, I know that my work is trusted which really allows me to do my job in the best way possible.
Barbara
Strategic Partnerships Manager
For me, the best part about working at adjoe is our diverse international team. Working with people from all over the world brings different perspectives together, which allows us to approach problems from all angles to find the best solutions.
Janvi
Strategic Partnerships Manager
adjoe is a place where I am encouraged and given opportunities to grow professionally. It's where my work is both challenging and rewarding, and where I am able to build a great social network with my colleagues.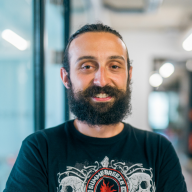 Kostas
Backend Developer
At adjoe, I am often confronted with diverse challenges that help me improve my overall technical skills. We also host regular hackathons to explore new technologies so that we are better prepared the future.
ENJOY OUR BENEFITS
Modern Hardware: Linux, Mac or Windows
Public Transportation Subsidy
Tech Stack
Athena
Clickhouse
Cloudwatch
Docker
DynamoDB
ECS
Elastic
Firehose
Fluentbit
GitLab
Glue
Golang
Google App Engine
Grafana
Javascript
Kafka
Kinesis
Kotlin
Kubernetes
Lambda
MySQL
nginx
Npm
Redis
Redshift
S3
Scala
Sentry
Spark
SQS
Typescript
Inside adjoe
Bringing the Best in Adtech