Open Jobs
Are you looking for a new challenge and want to be part of the fastest-growing adtech company in Hamburg, Germany?
Account Manager – Demand Account Management (f/m/d)
Hamburg
adjoe
Demand Account Management
Full-time
Every great app out there deserves to be connected with the right users and the right revenue streams. And adjoe will give this to them.
adjoe
is a leading mobile ad platform developing cutting-edge advertising and monetization solutions that take its app partners' business to the next level. Our unique ad unit Playtime has made us one of the fastest-growing ad platforms and top-ranking user acquisition sources for app publishers worldwide (ranked #1 for growth in the AppsFlyer Index). And that's just the start: We've just launched our programmatic in-app platform in order to disrupt the status quo of mobile ad monetization. Again.
Home to an
advanced tech stack
, powerful financial backing from Bertelsmann, and a long-term growth mindset, adjoe is part of the
applike group
ecosystem. A hub of disruption and thought leadership in the app economy, with a driven and dynamic workforce to be reckoned with.
Be the next tech-driven, ambitious talent to join our growing teams!
Meet Your Team: Demand Account Management
Leave no growth opportunity unturned. The Demand Account Management team helps app advertisers grow their user base by proactively bringing highly creative data-driven suggestions and strategies to the table. You are always asking yourself "How can we help advertisers increase their scale and performance?", "Where is the next hidden GEO gem?" and "Which launch strategies will drive an app's expansion?"
What You Will Do
Manage a portfolio of existing clients with the focus of generating more revenue for clients and us
Analyze KPIs related to the performance of your partners and take action accordingly
Support your teammates in their day-to-day tasks
Establish strong relationships with your existing partners through day-to-day communication (Skype, emails, calls)
Support new clients during the onboarding process
Prepare reports and presentations for your partners
Gather and communicate your partner's needs internally with the right priorities, including technical troubleshooting
Be part of an international English-speaking team
Who You Are
You have minimum of 2 years' experience in mobile user acquisition, the mobile advertising space, adtech account management or a similar position
You understand the standard KPIs used in adtech (CPI, CPM, CPC, ARPDAU, etc.)
You possess excellent analytical skills
You are mastering the Google Suite (especially Sheets)
You have outstanding communication skills (verbal and written), you are fluent in English (other languages are a plus)
You have an output- and revenue-driven attitude
You like to work in a fast-paced environment
You enjoy a strong sense of ownership
Heard of Our Perks?
Tech Package: Create game-changing technologies and explore the newest technologies out there
Work–Life Package: 2 remote days per week, 30 vacation days, 3 remote weeks per year, flexible working hours, kick-ass dog-friendly office in the center of the city
Relocation Package: Visa and legal support, relocation subsidy, free German classes in the office
Never-Go-Hungry Package: Regular company and team lunches, free breakfast, impressive selection of free snacks and drinks
Health Package: Free in-house gym, biweekly yoga classes
Activity Package: Regular team events and hackathons
Career Growth Package: Dedicated growth budget to attend relevant conferences and online seminars of your choosing.
Wealth Building: Virtual stock options
Skip writing cover letters. Tell us about your most passionate personal project, your desired salary and your earliest possible start date. We are looking forward to your application!
We welcome applications from people who will contribute to the diversity of our Company.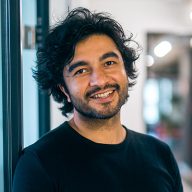 Robin
Ad Ops
What I really love about working at adjoe is the freedom to innovate. I have the ability to take ownership of all my projects and through this autonomy, I know that my work is trusted which really allows me to do my job in the best way possible.
Barbara
Strategic Partnerships Manager
For me, the best part about working at adjoe is our diverse international team. Working with people from all over the world brings different perspectives together, which allows us to approach problems from all angles to find the best solutions.
Janvi
Strategic Partnerships Manager
adjoe is a place where I am encouraged and given opportunities to grow professionally. It's where my work is both challenging and rewarding, and where I am able to build a great social network with my colleagues.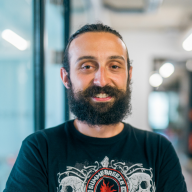 Kostas
Backend Developer
At adjoe, I am often confronted with diverse challenges that help me improve my overall technical skills. We also host regular hackathons to explore new technologies so that we are better prepared the future.
ENJOY OUR BENEFITS
Modern Hardware: Linux, Mac or Windows
Public Transportation Subsidy
Tech Stack
Athena
Clickhouse
Cloudwatch
Docker
DynamoDB
ECS
Elastic
Firehose
Fluentbit
GitLab
Glue
Golang
Google App Engine
Grafana
Javascript
Kafka
Kinesis
Kotlin
Kubernetes
Lambda
MySQL
nginx
Npm
Redis
Redshift
S3
Scala
Sentry
Spark
SQS
Typescript
Inside adjoe
Bringing the Best in Adtech