Open Jobs
Are you looking for a new challenge and want to be part of the fastest-growing adtech company in Hamburg, Germany?
Senior Go Backend Developer (Programmatic) (f/m/d)
Hamburg
adjoe
Programmatic Supply
Full time
adjoe
is a leading mobile ad platform developing cutting-edge advertising and monetization solutions that take its app partners' business to the next level. Part of the
applike group
ecosystem, adjoe is home to an
advanced tech stack
, powerful financial backing from Bertelsmann, and a highly motivated workforce to be reckoned with.
Meet Your Team:
Did you know that in-app ads are sold in a real-time auction before they get rendered by adjoe's Android and iOS SDK in thousands of mobile apps?
It's exactly for this that adjoe has built its own platform. Our backend system can simultaneously handle a few billion auctions in real time every day. It receives price bids for every ad impression via API from more than 20 different companies buying potential ad inventory. To handle this many requests, the Programmatic team constantly optimizes its Golang code – to improve memory efficiency and execution time.
Handling this much traffic on scale can also be pretty expensive, so the team introduced Protobuf and different compression options to decrease bandwidth use. The common CRUD DB Repository pattern can limit performance and scalability – so, our software design is based on event sourcing approaches leveraged by Apache Kafka and other streaming technologies.
Join our discussions, explore implementation, and put your problem-solving skills to the test in our cross-functional Programmatic team.
What You Will Do:
Develop backend applications written in Go in order to support the development of our new programmatic advertising platform. You will be responsible for the seamless communication of the programmatic backend with other adjoe products, building new APIs to enable communication with the mobile frontend, and implementation of our real-time bidding algorithms.
Work closely with Terraform to implement infrastructure changes.
Collaborate with our Data Science team to solve complex math problems used to optimize our ML algorithms that are dedicated to delivering the right ads to the right users and integrate their solutions into adjoe's application.
Be responsible for collecting the billions of daily API events and aggregating them in our Kafka streams with the goal of querying them from the data lake in a matter of seconds.
Work in a community of developers with whom you'll share knowledge and contribute to peer code reviews.
Be part of an international English-speaking team dedicated to scaling our AdTech platform beyond our hundreds of millions of monthly active users.
Who You Are:
You worked in software development for at least 2+ years
You have gained profound experience with building web applications in Go
Knowledge about databases and a basic understanding of Regular Expressions, HTTP protocol and Encoding
Experience working with infrastructure as code (Terraform), Docker and serverless infrastructure is a plus
Heard of Our Perks?
Tech Package: Create game-changing technologies and work with the newest technologies out there.
Work–Life Package: Work remotely for 2 days per week, enjoy flexible working hours and 30 vacation days, modern office in the city center, dog-friendly.
Relocation Package: Receive visa and legal support, a generous relocation subsidy, and free German classes in the office.
Never-Go-Hungry Package: Graze on regular company and team lunches, free breakfasts, and a selection of free snacks and drinks.
Health Package: Get fit with our gym membership subsidy and biweekly yoga classes.
Activity Package: Enjoy a host of team events, hackathons, and company trips.
Career Growth Package: Dedicated growth budget to attend relevant conferences and online seminars of your choosing.
Skip writing cover letters. Tell us about your most passionate personal project, your desired salary and your earliest possible start date. We are looking forward to your application!
We celebrate diversity and are committed to equal employment opportunity regardless of race, color, ancestry, religion, sex, national origin, sexual orientation, age, citizenship, marital status, disability, gender identity or Veteran status.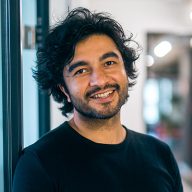 Robin
Ad Ops
What I really love about working at adjoe is the freedom to innovate. I have the ability to take ownership of all my projects and through this autonomy, I know that my work is trusted which really allows me to do my job in the best way possible.
Barbara
Strategic Partnerships Manager
For me, the best part about working at adjoe is our diverse international team. Working with people from all over the world brings different perspectives together, which allows us to approach problems from all angles to find the best solutions.
Janvi
Strategic Partnerships Manager
adjoe is a place where I am encouraged and given opportunities to grow professionally. It's where my work is both challenging and rewarding, and where I am able to build a great social network with my colleagues.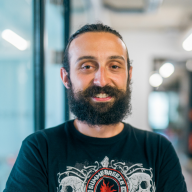 Kostas
Backend Developer
At adjoe, I am often confronted with diverse challenges that help me improve my overall technical skills. We also host regular hackathons to explore new technologies so that we are better prepared the future.
ENJOY OUR BENEFITS
Modern Hardware: Linux, Mac or Windows
Public Transportation Subsidy
Tech Stack
Athena
Clickhouse
Cloudwatch
Docker
DynamoDB
ECS
Elastic
Firehose
Fluentbit
GitLab
Glue
Golang
Google App Engine
Grafana
Javascript
Kafka
Kinesis
Kotlin
Kubernetes
Lambda
MySQL
nginx
Npm
Redis
Redshift
S3
Scala
Sentry
Spark
SQS
Typescript
Inside adjoe
Bringing the Best in Adtech