Open Jobs
Are you looking for a new challenge and want to be part of the fastest-growing adtech company in Hamburg, Germany?
Project Manager Anti-Fraud (f/m/d)
Hamburg
adjoe
Anti-Fraud Solutions
Full time
adjoe
is a leading mobile ad platform developing cutting-edge advertising and monetization solutions that take its app partners' business to the next level. Part of the
applike group
ecosystem, adjoe is home to an
advanced tech stack
, powerful financial backing from Bertelsmann, and a highly motivated workforce to be reckoned with.
Meet Your Team:
Industry experts report that 20 percent of global mobile ad spend can be identified as fraud. adjoe's Anti-Fraud team has both validated this number and prevented fraudulent users from entering partners' ad spend.
The team's software includes two major components.
1) A distributed backend system that provides different interfaces to partners, modern cloud infrastructure, and a dashboard to visualize insights.
2) A unique mobile SDK that analyzes device features to detect modifications.
With no one-size-fits-all solution, the Anti-Fraud team works with a large set of features. From detecting attempts based on data with static patterns, using proprietary solutions to detect software manipulation, marking network traffic abnormalities, and identifying when to warn or even block requests.
Join a team that is excited about the latest technologies and is highly interested in data, security, cloud computing, and mobile operating systems. Not to mention a team that celebrates many awards for leading the way in fraud prevention.
What You Will Do:
Take the lead in expanding our anti-fraud solutions by managing cross-team projects that will increase our coverage against malicious platform users.
Work closely with a team of backend and mobile developers and the BI & Data Science team, who will conduct user analyses and develop new features to reduce platform vulnerabilities.
Translate new features into roadmaps, create quarterly objectives, and establish KPIs for each project to make sure the team is on track to achieve its goals.
Develop a positive knowledge-sharing environment and maintain regular communication by hosting daily team stand-ups.
Support the Business teams by conducting ad hoc client investigations and translate findings into clear actionable recommendations.
Be part of an international English-speaking team dedicated to scaling our AdTech platform beyond our hundreds of millions of monthly active users.
Who You Are:
At least 2 years of experience in IT project management or similar experience
High interests of technology, business processes and functional dependencies
Proactive, hands-on and creative problem-solving mindset
Basic knowledge of agile IT Project Management frameworks
Pragmatic and adaptable to new services, processes and stakeholders
Approachable and able to communicate effectively at all levels, internally and externally
Committed to overall team success and supporting colleagues
Excellent people skills which allow you to push team members personal growth
Excellent communication skills that are fluent in written and spoken English
Completed studies in business informatics or comparable course of study
Nice to have:
Experience in Scrum
Basic software development knowledge
Interest in Cloud Providers like Azure, AWS, Alibaba Cloud, Google Cloud
Heard of Our Perks?
Tech Package: Create game-changing technologies and work with the newest technologies out there.
Work–Life Package: Work remotely for 2 days per week, enjoy flexible working hours and 30 vacation days, modern office in the city center, dog-friendly.
Relocation Package: Receive visa and legal support, a generous relocation subsidy, and free German classes in the office.
Never-Go-Hungry Package: Graze on regular company and team lunches, free breakfasts, and a selection of free snacks and drinks.
Health Package: Get fit with our gym membership subsidy and biweekly yoga classes.
Activity Package: Enjoy a host of team events, hackathons, and company trips.
Career Growth Package: Dedicated growth budget to attend relevant conferences and online seminars of your choosing.
Skip writing cover letters. Tell us about your most passionate personal project, your desired salary and your earliest possible start date. We are looking forward to your application!
We celebrate diversity and are committed to equal employment opportunity regardless of race, color, ancestry, religion, sex, national origin, sexual orientation, age, citizenship, marital status, disability, gender identity or Veteran status.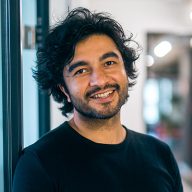 Robin
Ad Ops
What I really love about working at adjoe is the freedom to innovate. I have the ability to take ownership of all my projects and through this autonomy, I know that my work is trusted which really allows me to do my job in the best way possible.
Barbara
Strategic Partnerships Manager
For me, the best part about working at adjoe is our diverse international team. Working with people from all over the world brings different perspectives together, which allows us to approach problems from all angles to find the best solutions.
Janvi
Strategic Partnerships Manager
adjoe is a place where I am encouraged and given opportunities to grow professionally. It's where my work is both challenging and rewarding, and where I am able to build a great social network with my colleagues.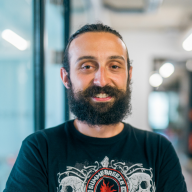 Kostas
Backend Developer
At adjoe, I am often confronted with diverse challenges that help me improve my overall technical skills. We also host regular hackathons to explore new technologies so that we are better prepared the future.
ENJOY OUR BENEFITS
Modern Hardware: Linux, Mac or Windows
Public Transportation Subsidy
Tech Stack
Athena
Clickhouse
Cloudwatch
Docker
DynamoDB
ECS
Elastic
Firehose
Fluentbit
GitLab
Glue
Golang
Google App Engine
Grafana
Javascript
Kafka
Kinesis
Kotlin
Kubernetes
Lambda
MySQL
nginx
Npm
Redis
Redshift
S3
Scala
Sentry
Spark
SQS
Typescript
Inside adjoe
Bringing the Best in Adtech